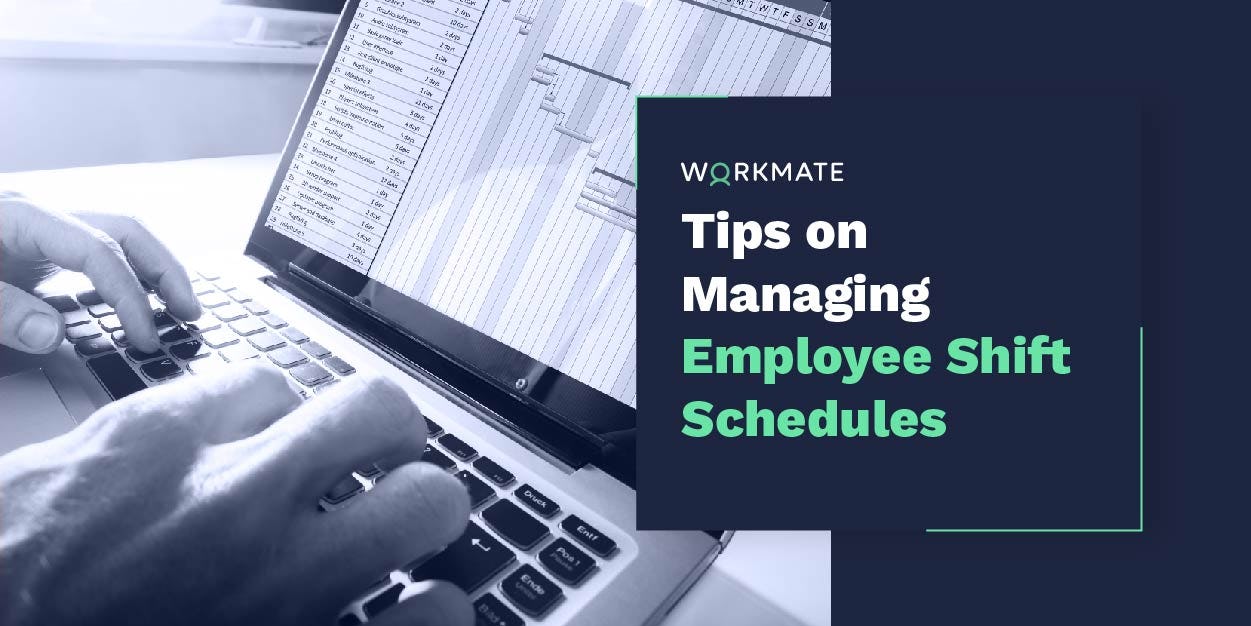 Business: 5 Tips to Improve Your Employee Scheduling Processes
Good shift management goes beyond increasing your workforce productivity- it also increases worker retention. Employees that know exactly when they are expected to come in to work has a higher likelihood of retaining with the business. On the other hand, research from Deloitte found that employees are 174% more likely to churn if there is a lack of real-time scheduling system.
To further improve shift attendance rates, worker productivity and satisfaction, we've compiled a list of steps you can consider to optimize your shift scheduling processes.
Create Free Business Account
Start hiring and managing your workforce today. Instantly create a business account to start your 30-day free trial. No obligation and no credit card required.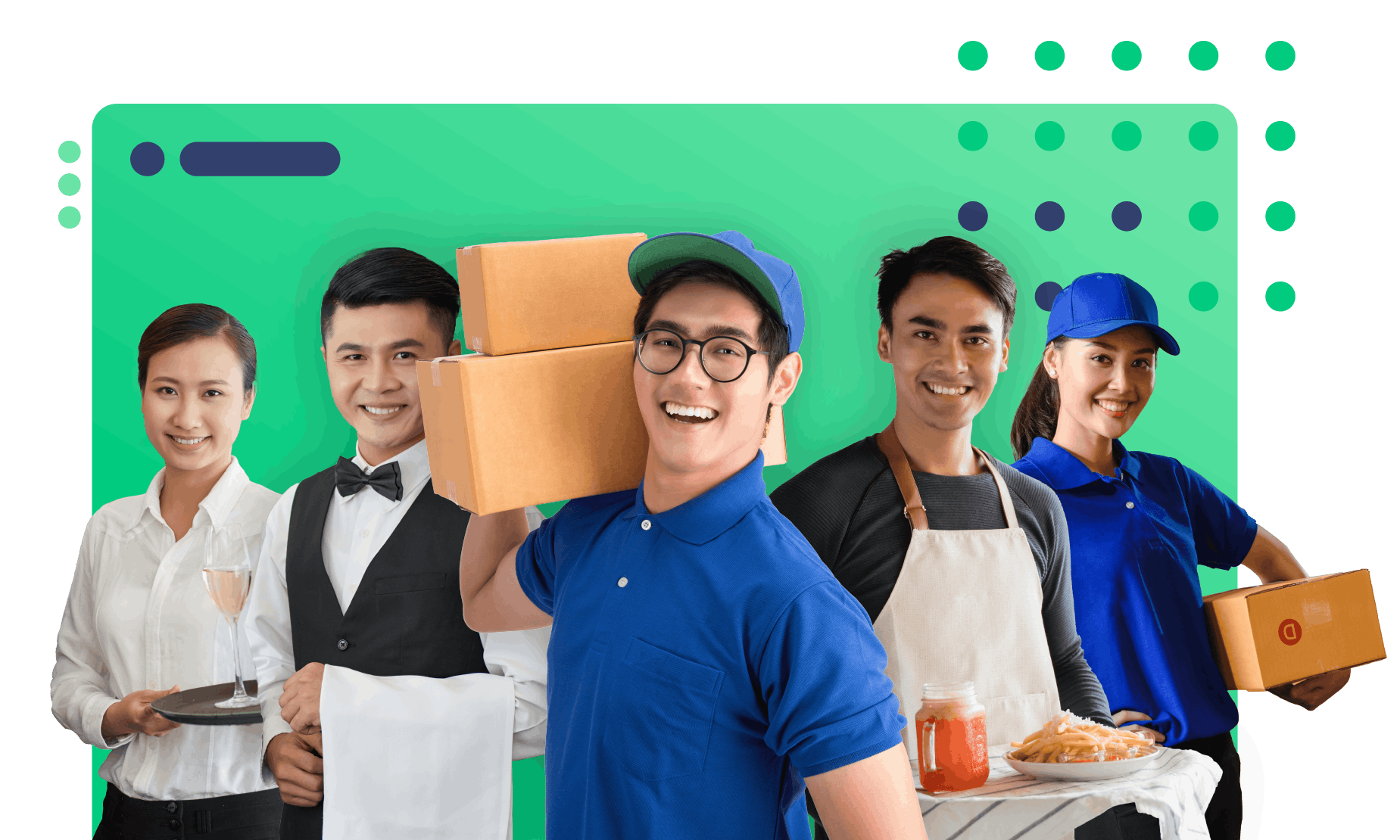 Tips to optimize your shift scheduling processes
1. Take advantage of automated shift scheduling software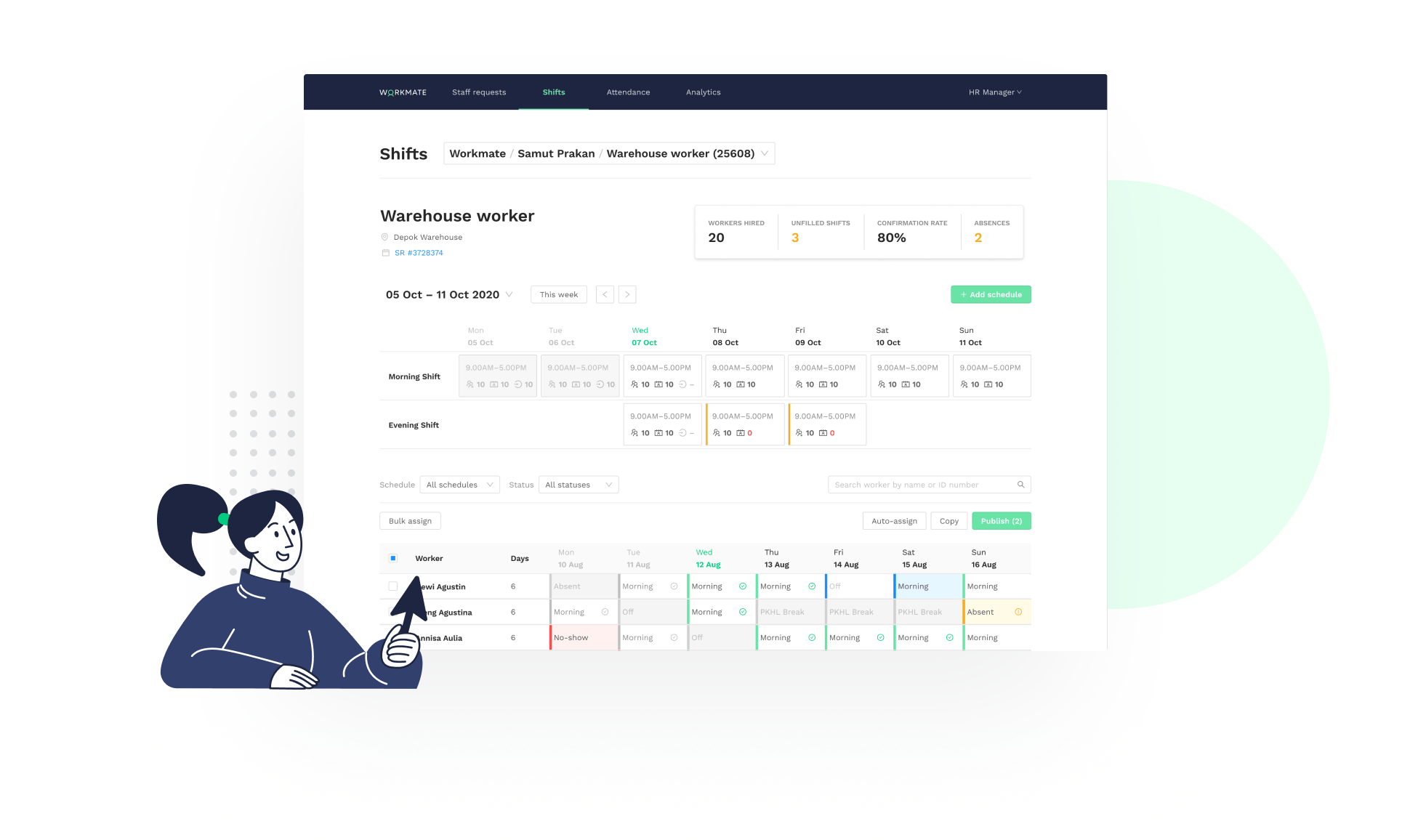 Leveraging software or digital scheduling solutions will help save you time and effort, especially when managing shifts for a larger workforce.
If your business is growing, scheduling software can help you create, coordinate and assign shifts to hundreds of workers while minimizing the chance of human error and miscommunication. This is done through an integrated dashboard, where you can plot shifts for the entire week or month- and sends the shift information to your workers in real time.
Your scheduling software will also give you better visibility on shift fulfilment rates, as well as assist you in workforce planning to accommodate changes in your business demand. Systems will auto-detect unfilled shifts and auto-assign workers to make sure your productivity targets are never missed.
Learn more about Workmate shift scheduling software
2. Streamline communications with your workforce
Beyond leveraging technology automation, it is also important for you to have a streamlined communication channel between HR and Ops managers, and your workers. This is crucial when it comes to shift assignment and delegation, especially if there are sudden changes in shift schedules- either from the business side, or from worker availability.
Miscommunication frequently occurs when managing shifts for a larger workforce, especially if they are spread across different locations. This can lead to workers getting the wrong schedules, showing up to the wrong shifts (or not showing up at all) and may cause them to be disgruntled and churn.
Consider having two-way communication between you and your blue-collar workers, so that they can report if they cannot make it to their assigned shifts early on and you can have enough time to find their replacements. This is the first step to ensure your business does not lose its momentum in terms of workforce productivity.
To learn more about how you can optimize your scheduling system, download our free E-book: Ultimate Guide to Scheduling Shifts.
3. Have a back-up plan ready to ensure shifts are always filled
Despite having an effective shift scheduling process, there will nevertheless be times when your workers cannot make their assigned shift for the day, causing managers to scramble for replacements on the day itself.
To combat this, try to predict worker attendance by asking workers to confirm their assigned shifts early on. This will help you foresee the need for a back-up rotation roster to still make sure that all shifts are filled, and productivity targets are achieved.
You can also consider using Workmate's shift management software to view worker confirmation rates in a matter of hours after the shifts have been published to the workers. Monitoring confirmation rates help you prepare for back-up rosters, and the system auto-detects dropped shifts to notify you for immediate replacement.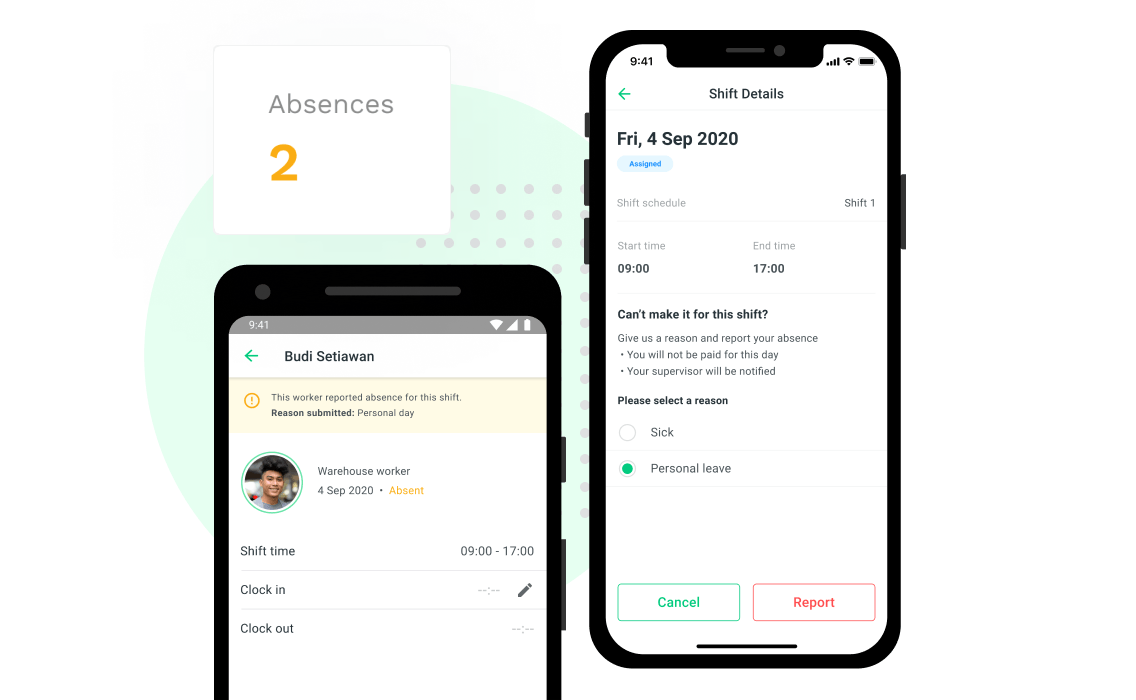 4. Adjust your workforce size accordingly
Make sure you have the optimal number of workers to accommodate the needs of your business. Good workforce planning enables you to have the right amount of workers- enough to make sure you do not compromise on business productivity.
Ensure you are compliant to local labour laws, and have taken regulations regarding maximum number of work days and required breaks when you are planning your shift schedules.
If you need more workers- Workmate's workforce management software is fully integrated to a qualified worker network that is pre-vetted and AI-matched to your business needs. This will help you fill in all your required shifts without needing to spend time in posting a job and interviewing candidates for the role. Workers are onboarded to your shift scheduling system and you can start assigning shifts to them immediately.
5. Evaluate your shift scheduling process from time to time
As your business and workforce grows, there might be new requirements for your shift scheduling processes that you will need to consider in the future. This is why it is important to regularly do an evaluation of your shift scheduling process, amongst your other workforce management systems, to ensure that it is still able to fulfil all your business needs.
Monitor expenses for labor and how effective these expenses are, the fulfillment rate of each shift and find out what are the obstacles (whether technical or worker issues). Evaluate the time you allocate to managing shifts and whether you need to optimize this.
Generally, if you identify that you are spending an increasing amount of time allocated in making improvements to attendance, this indicates a need for a better way to manage your employee shifts. All aspects that need to be improved are answered in the digital scheduling system.
For a shift scheduling solution that is more accurate, efficient and has minimal errors, you can use an automated shift scheduling software.
Shift scheduling on Workmate
Workmate is a workforce management platform that is equipped with this digital shift scheduling system - The solution for shift scheduling management with minimal errors due to automated technology.
What can you do with the Workmate shift scheduling software?
Create and manage hundreds of shifts in one automated dashboard, no need to worry about data that is prone to human errors or calculation errors

Auto-assign feature instantly detects empty shifts and notifies you to replace workers to improve your shift fulfilment rates

View real time confirmation from your workers as soon as you publish the shifts to them. Streamline all communications between HR, Ops, Supervisor, and workers to ensure there is no miscommunication.

Start switching to a more efficient, accurate and integrated shift scheduling system and say goodbye to processes prone to errors, miscommunication, and inaccuracies. It's time to upgrade your workforce management with Workmate.
Book a free consultation with our team today!
To learn more about how you can optimize your scheduling system, download our free E-book: Ultimate Guide to Scheduling Shifts.
Subscribe to our Blog
We will send you updates on new, relevant articles that can help your business!