Shift Scheduling- Excel Spreadsheets vs Scheduling Software
Scheduling your employees into shifts is a core part of workforce management. There is a considerable amount of work that goes behind creating and coordinating shift schedules- that's why managers spend up to 20% of their working hours just on shift management alone!
There are two scheduling systems that you can use to support your business operations, which are:
Manual scheduling system- or using Excel spreadsheets to organize staff into shifts
Digital scheduling system- or using automated scheduling software to manage shifts with workers
Which shift management system is right for your business? Read on to find out.
Don't forget to also download your copy of our free shift scheduling spreadsheet template!
Manual Shift Management (Excel Spreadsheet) 
A manual employee scheduling process, such as using Excel spreadsheets, can be a quick solution for those of you who are just starting a business are managing a relatively small number of workers.
Here are a few considerations if you are looking to schedule your workers manually through Excel spreadsheets: 
Suitable for small business owners or just starting a business 
If you are a small business owner or if you are managing a small team, starting off with a manual Excel spreadsheet system can help you save expenses while still maintaining a pretty good overview of your roster schedule. 
Set up custom formulas according to your business needs 
Spreadsheets are also more flexible, giving you the direct ability to manage and create formulas according to how you want to set up your workforce. 
If this sounds like you, we have an Excel spreadsheet template below that you can download and use. This spreadsheet template is meant to kickstart your shift scheduling processes- click here to download.
However, while spreadsheets are great for beginners and are readily accessible, there are a couple of challenges that generally occur from using manual systems: 
Time required to manage schedule and attendance data, not to mention reconciliation time when there are changes or absences involved.
Communication is not streamlined and relies on other mediums e.g. Whatsapp or text message 
Hard to get instant visibility on roster schedule for different locations
Digital Shift Management (Scheduling Software)
Why should you switch to a digital, automated scheduling solution?
Automating your shift management process is the only way to effectively manage schedules for a large workforce. By switching to a digital system, you can cut down the time it takes to create and communicate schedules, while ensuring your workers receive the right information and therefore improving your attendance and overall productivity. 
Several benefits of automated shift scheduling: 
Efficiency with one, integrated system 
By moving all of your shift management to a digital solution, you can manage schedules for hundreds of workers in one single dashboard, giving you a quick overview of your roster across all locations to be able to do better workforce planning. 
Reduce human errors
Automating shift management processes also takes human errors out of the equation, as you do not have to double-check Excel formulas to ensure calculations are accurate. Create, edit, duplicate, publish and assign shifts in just a few clicks. 
Real-time visibility on shift assignment and attendance 
View real-time shift confirmation from workers without having to manually communicate to them one by one. When a worker drops out, the system automatically notifies you to re-fill empty shifts to ensure that your productivity is not impacted. The system also records attendances in real-time, which means you can instantly reconcile shift assignment and timesheet data.
Learn more about shift scheduling best practices by downloading our free E-book "Ultimate Guide to Effective Shift Scheduling"
Shift Scheduling on Workmate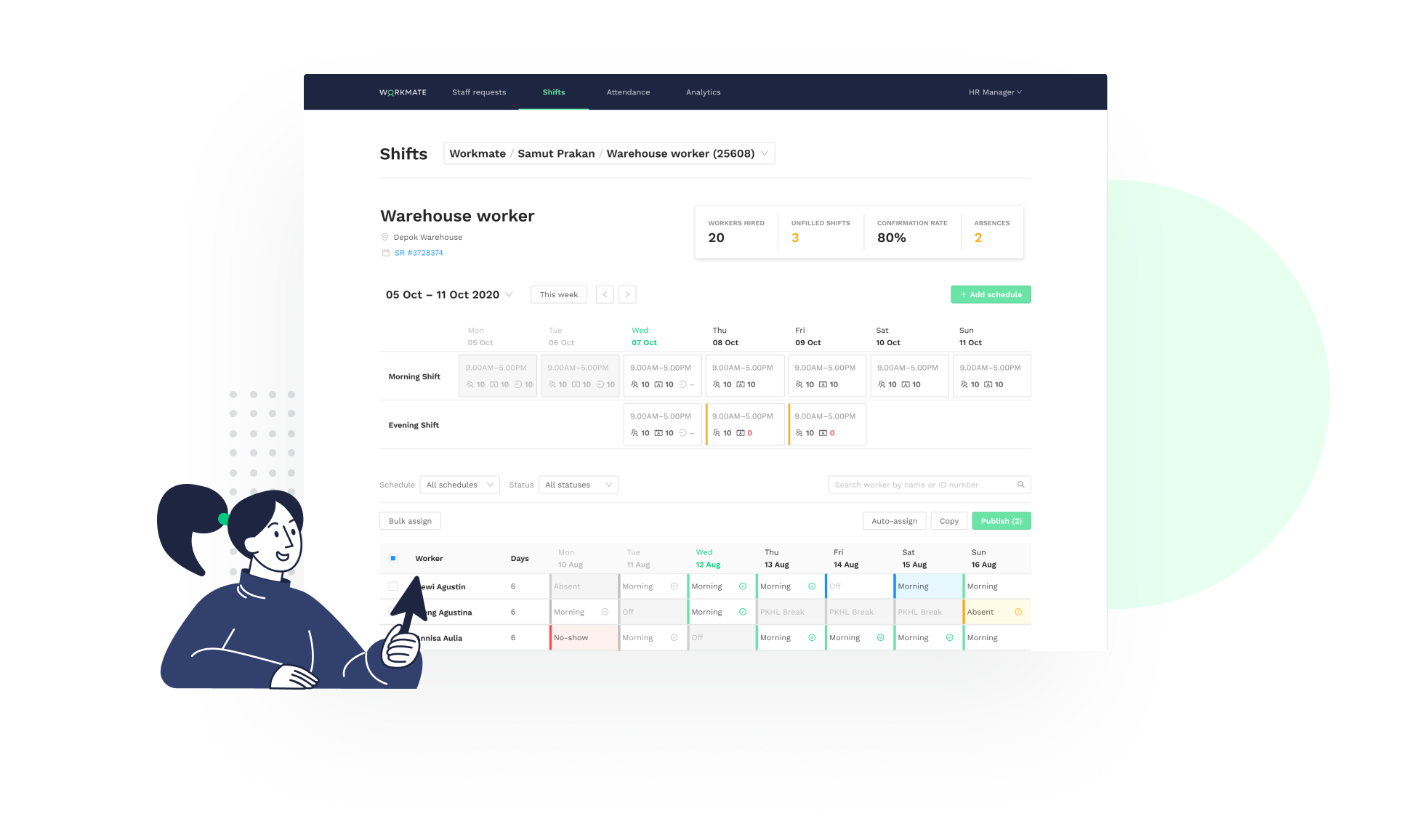 Workmate brings you a smarter way to schedule shifts. Instead of relying on messy spreadsheets and constantly having to go back-and-forth in Whatsapp groups, you can schedule hundreds of shifts in one, intuitive dashboard, and get reassurance that your workers will show up to their assigned shifts. The shift management feature not only tracks shift schedules and attendance, but also is built to drive perfect attendance for your blue-collar workers. 
How can you manage shifts on Workmate? 
Create and edit hundreds of shifts in a matter of seconds to save time and effort
Gain a comprehensive overview of your entire roster across locations and positions 
Automatically assign the right shifts to the right workers in the click of a button- ensuring compliance with labour laws. 
Communicate with workers and supervisors directly on the platform, so your entire workforce is always aligned on shift schedules 
Workers are prompted to confirm their assigned shifts, allowing you to foresee future attendance rates even before the shift starts
Get notified when you have unfilled shifts for your immediate action 
Monitor accurate shift attendance records on the same platform in real-time, ready to approve and send to payroll 
Manage worker-reported absences, all in the platform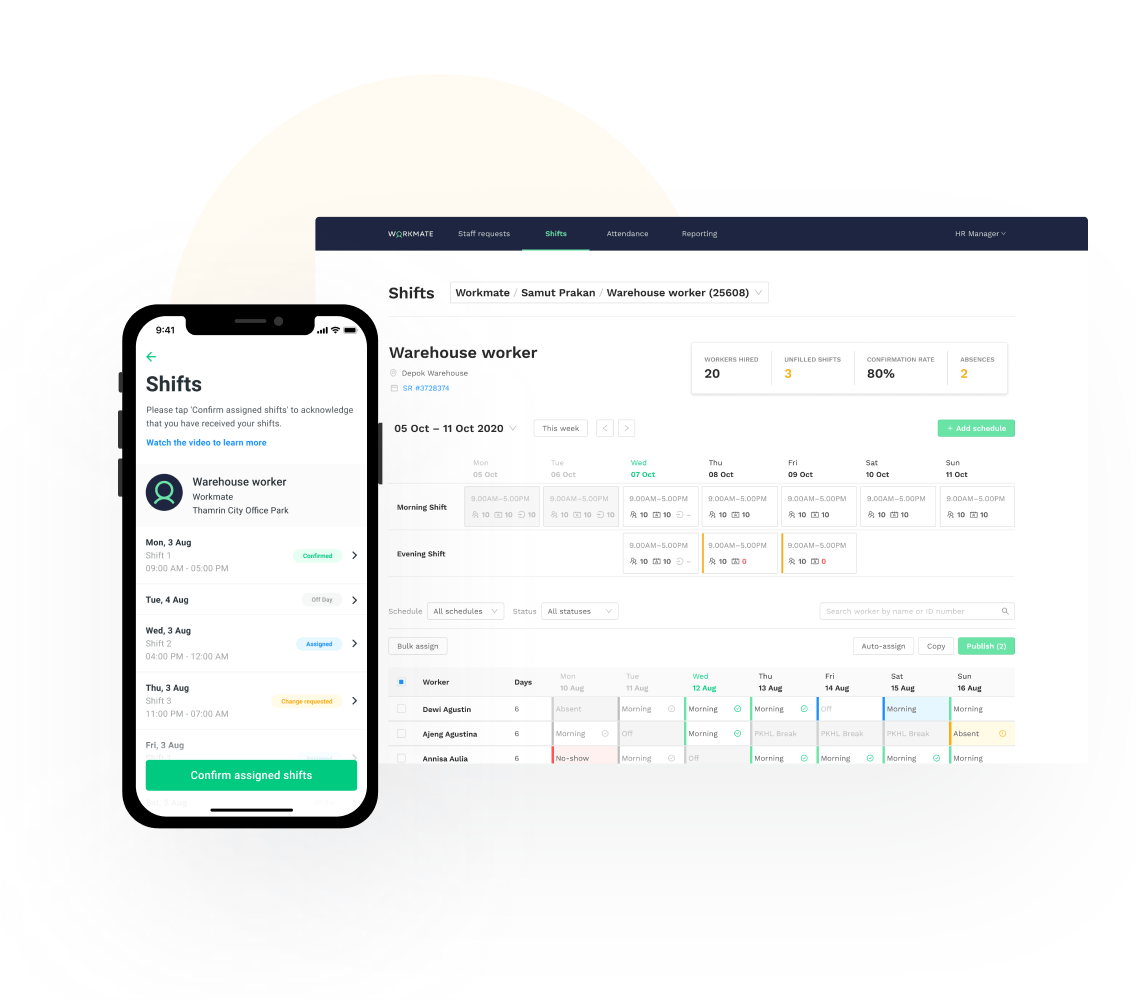 Workmate is an end-to-end workforce management platform designed to enable better performance from your blue-collar workforce. Manage thousands of workers in one platform while driving better shift attendance and worker retention. Learn more about how we can help you maximize your workforce productivity here.
Subscribe to our Blog
We will send you updates on new, relevant articles that can help your business!