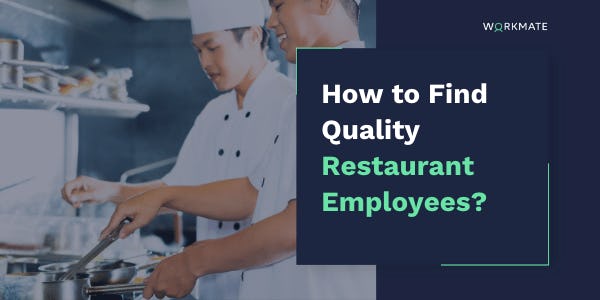 Business: How to Find Quality Restaurant Employees?
The F&B sector is a mainstay industry that will always be in demand by consumers. Instead, the problem that many restaurant owners face is not knowing how to form a great team or how to recruit the right people to help grow their business. 
In the restaurant business, prioritising teamwork is paramount.
Whether it's the wait staff greeting and taking customer orders, the kitchen staff delivering on the quality of food, the cashier taking payment promptly, or even the restaurant manager optimising the workflow between front and back of house - each employee has a role in delivering a great dining experience.  
You should also aim for a suitable number of staff members to match your needs, in order to optimise your profit margins.
It's important to find a balance as understaffing leads to lost opportunities and compromised service while overstaffing impacts your profit margins. 
Create Free Business Account
Start hiring and managing your workforce today. Instantly create a business account to start your 30-day free trial. No obligation and no credit card required.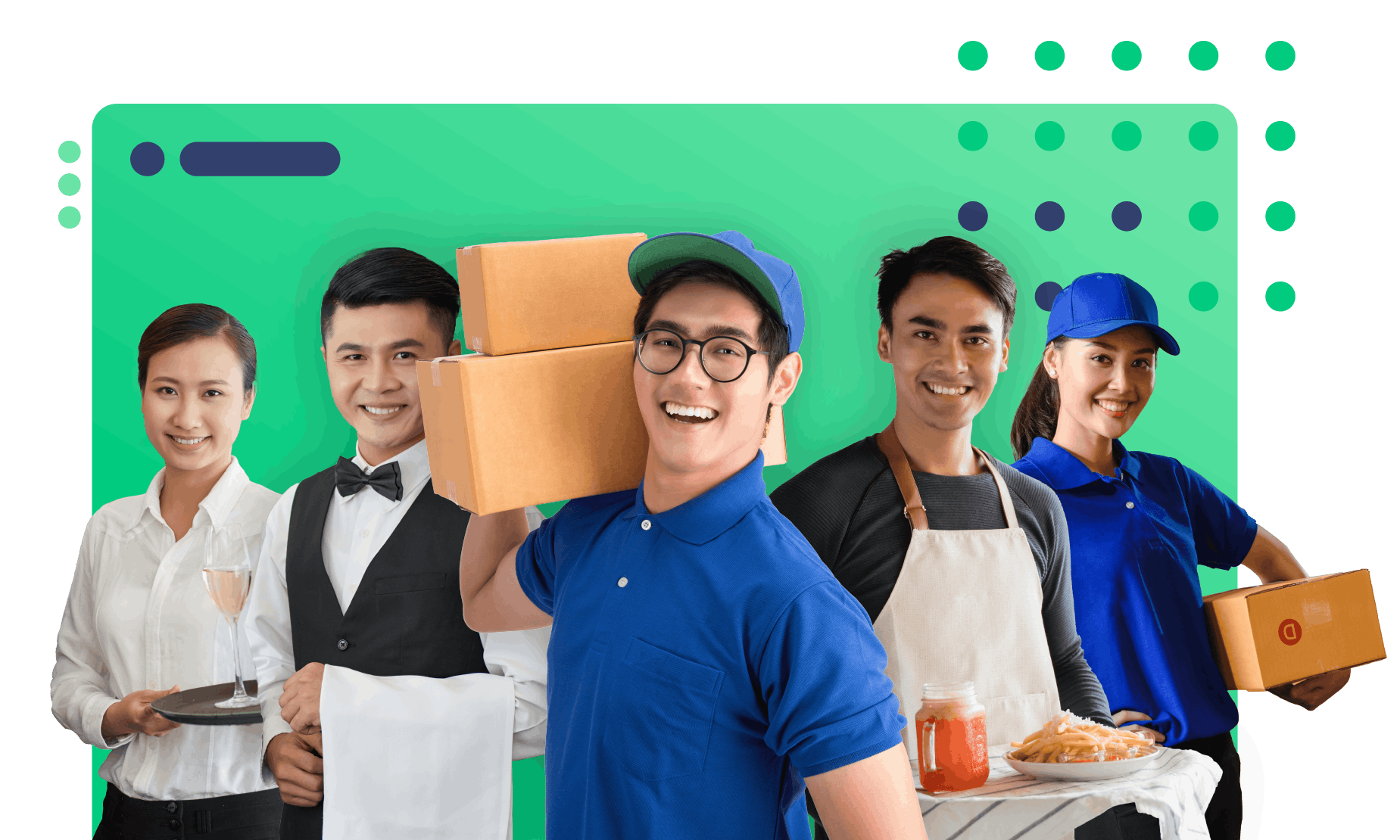 Various roles of restaurant employees
 Restaurant employees can be categorised into two types: Front-of-House (FOH) and Back-of-House 
(BOH), and may also differ depending on the types of restaurants.
Front-of-House (FOH) Employees
FOH employees refer to restaurant staff who interact with guests directly.
As a result, FOH staff are often expected to have great communication and observational skills, and be presentable as ambassadors of the restaurant brand.
FOH positions include waiters, cashiers, hosts and hostesses, as well as delivery personnel.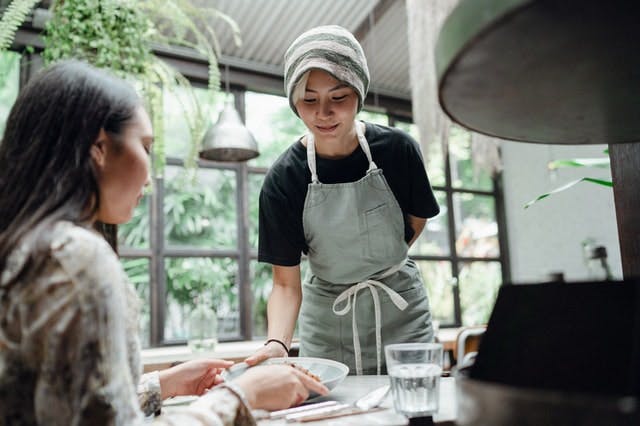 1. Waiters
Waiters are the first point of contact for customers and also serve as the liaison between them and BOH staff.
For instance, wait staff are expected to greet customers and take their orders, all in a friendly and timely manner, before sending the orders to the kitchen. 
As the face of the restaurant, wait staff are also responsible for taking and responding to customer feedback, and performing service recovery if required.
They're also tasked with managing the cleanliness of the tables and tidying up after customers. 
2. Cashiers
Like wait staff, cashiers also interact directly with customers but their main job is to process payments from customers.
They're also responsible for rounding up the restaurant's transactions at the end of the day and making sure that the payment amounts tally. If discrepancies are found, the cashier is usually held accountable. 
Cashier positions are often available in shifts, or set for a specific set of hours, during which the cashier is expected to man the counter and ensure the cash register isn't left unattended. 
3. Host/Hostess
Hosts and hostesses are also key customer-facing figures and usually the first point of contact with a dining customer.
From greeting potential customers lingering outside the restaurant to receiving calls and taking orders and reservations over the phone, they work in tandem with wait staff to provide exceptional customer service. 
Sometimes both roles share overlapping tasks such as attending to customers and addressing their feedback in a satisfactory way. 
4. Food delivery personnel
Food delivery has been on the rise since the pandemic hit, and many restaurants have added their own delivery fleets. This may sound like a logistics role but food delivery personnel are actually FOH staff. 
Besides being responsible for packing the delivery items in the vehicle, delivery personnel are also expected to deliver the food in a timely manner.
If an issue arises during transportation, the delivery personnel must quickly communicate with the customers and keep them updated of delays, if any. 
Back-of-House (BOH) Employees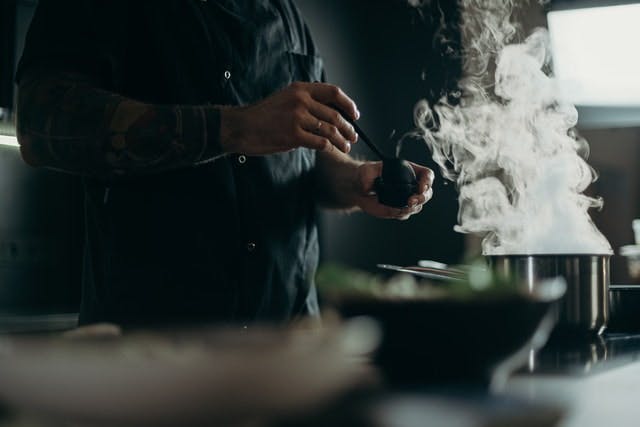 The three main BOH positions are the cooking staff, barista, and dishwasher. 
1. Cooks and kitchen staff
As the name suggests, the cook's job is to prepare food ordered by customers. Most restaurants usually have a head chef supervising a team of cooks and kitchen staff. 
The head chef will have the authority to decide on the kitchen arrangement, and ensure that food is prepared with standards and efficiency. 
2. Barista
Most people think of baristas as people who make coffee.
However, they usually have a broader scope that includes a repertoire of coffee, tea, juices and other drinks like chocolate or mocktails.
Their main duties include making drinks and cleaning the bar table. 
3. Dishwasher
The dishwasher clearly is responsible for cleaning and maintaining all cutlery and utensils, as well as ensuring that the storage area is kept clean and tidy.  
Restaurant Type
The type of workers to hire also depends on your type of restaurant. Is it fine dining, a casual restaurant, cafe or fast food restaurant?
Fine dining restaurants
Upscale restaurants would usually have to engage people in specialised roles like a sommelier to handle wine orders and recommendations, as well as a Chef Garde Manger or Pantry Chef who takes care of charcuterie and desserts like salads, cheeses, and more. 
Casual restaurants
At casual restaurants, it's less about perfection and more about speed.
Food turnover is high and employees are expected to be able to prepare and serve food quickly.
Price points are also more affordable and less emphasis is placed on service quality.
Cafe
Cafes are a smaller scale set-up that requires fewer staff and employees usually hold on to multiple roles.
For example, wait staff may also double up as a receptionist or food delivery personnel.
Fast food restaurants
At fast food restaurants, employees are often demarcated into different zones for more efficiency.
It's common to have one team taking orders and payments at the counter, another team preparing orders in the kitchen or prep area with predetermined Standards of Operation (SOP), and yet another group that brings the prepared orders to customers.  
How to recruit the right restaurant employees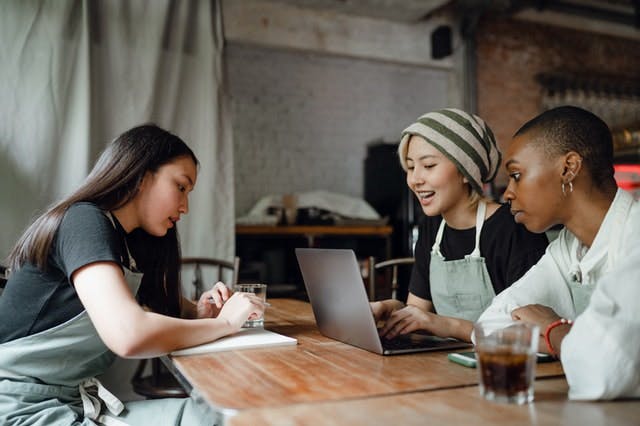 The biggest challenge of recruiting restaurant employees is finding workers with the skills required in their fields. 
FOH employees such as wait staff, hosts/hostesses and cashiers who interact directly with customers need good communication skills.
Without this, customers may end up having a bad experience and choose not to return, which ultimately impacts sales. 
Meanwhile, BOH restaurant employees like cooks and kitchen staff must be skilled in food preparation and cooking.
Dishwashers will also need to be meticulous to ensure that hygiene standards are reached. 
Besides skills, it's also important to focus on the workers' attitude. For instance, recruiting responsible workers who show up when they are supposed to.
To recruit quality workers, restaurants usually have to shell out some money for online recruitment services, proper employee training and the use of software to manage their staff. 
To that end, we've rounded up some tips to help you hire quality workers in a more efficient way: 
1. Prioritise job loyalty over experience
Look for employees who have a history of working at their previous companies for a long period of time, even if they may not have a lot of relevant work experience.
If the candidates worked at their previous company for less than a year, check if that's a common occurrence in their record.
Were they let go for performance reasons? Are they job hoppers who get bored easily?
2. Be transparent about the working environment
Working in F&B can be tough. Be realistic about the work and what is expected of the candidates, so that they can determine if the job is suitable for them.
For example, a restaurant may require one employee to wear multiple hats. This should be shared upfront to manage employees' expectations. 
3. Seek people with the right values
While it's important to hire qualified workers, it's even more important to hire people who share your values.
Make sure prospective employees have the skills, attitude and behaviour that your company values, through your interview process or personality tests that show their compatibility scores.  
Restaurant employee recruitment strategy
There are several ways to recruit restaurant employees. 
1. Use your personal connections
Rely on people you know to introduce their qualified connections.
This could come from family, friends and co-workers, and are usually suitable for helping new restaurant owners form a reliable team.  
2. Leverage community groups
Community groups on social media or online forums are another way that you can get leads for prospective candidates.
However, one challenge is that you may get a lot of notifications from job seekers who may not always be the best fit in terms of skills and location.
3. Referrals from past employees
This is great for long-time restaurateurs who know people in the industry and can trust them to provide quality referrals who fit the role.  
4. Tap on technology
Online job portals, headhunters or hiring solutions like Workmate can be used to find the workers that you need.
In particular, workforce management platforms like Workmate offer a comprehensive solution to your HR needs.
It uses AI to help you shortlist,  hire, and manage workers efficiently, all on one platform. You can also use the same platform for contract documentation, employee scheduling and payroll. 
Challenges and how to overcome high turnover rates among restaurant employees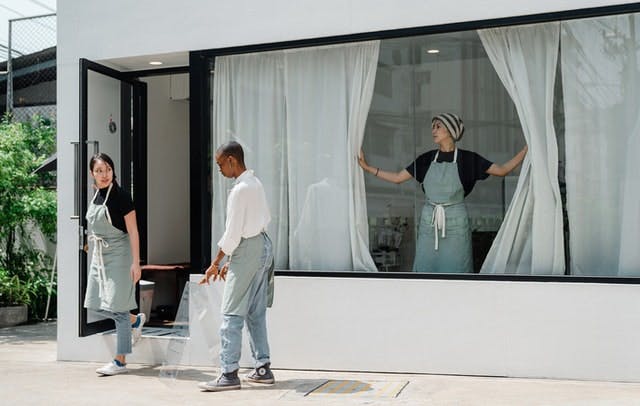 According to a study conducted by Linkedin, the restaurant industry is listed as the business sector with the highest turnover rate or employee turnover of 17.2% in the retail and consumer product sectors.
On average, restaurant employees resign within a year of being hired. It's no surprise then that the F&B industry faces high worker churn and are often seeking new staff.
There are several reasons why restaurant employees quit, namely:
 A high-pressure work environment 
Restaurant employees have to work for long hours in a fast paced environment, especially during lunch and dinner peak hours.
The lack of a systematic workflow and proper infrastructure may also cause friction in an already tense environment. 
Lack of career growth
Many workers are prone to leaving if they feel that the company is not helping them develop their skills and abilities.
If their wage is below the market rate, they may also be more likely to take up an opportunity with a more competitive salary.
Outdated technology 
You need to provide your employees with the right technology to help them do their jobs well.
Rather than old machines that disrupt workflows, proper kitchen display systems and well-integrated point of sale (POS) systems can often drive restaurant performance. 
Overly strict work guidelines
Restaurant owners who set too many rules and demand discipline over other things may often drive employees to resign. 
Poor management style and interpersonal relationships
Are there proper processes in place to review employees' work performance, and how is this communicated to them? It's important for restaurant managers to have rapport with their team.
They should also be able to communicate effectively with their subordinates when their work performance is not in line with expectations. 
To manage turnover rates, here are four ways to reduce employee resignation.  
Build an attractive incentive program
Incentivise restaurant employees and give them a reason to stay. For example, give them periodic bonus incentives if the restaurant is doing really well, or a performance bonus to the best employee each month. 
Appreciate your employees
Create a culture of mutual appreciation; motivate your employees and show them you care. This in turn helps to raise productivity. 
Be flexible
Divide the roles as required and provide your employees with adequate rest time. Create an organised workflow and employee schedule to facilitate this.
If an employee needs to take time off for valid reasons or wants to switch their shift, let them do it as long as operations aren't impacted. 
Build team rapport
Organise casual outings for the team after work, where restaurant owners, managers and all other employees can all get to know each other better in an informal setting. 
Summary
Human resources often come with many challenges from recruiting to retaining employees.
Instead of sticking to the usual conventional methods, HR personnel can leverage new ways to recruit quality workers as long as they are appropriate for the organisation's needs.
Regardless of the method(s) you decide to adopt, it's important that you focus on recruiting staff with the right qualifications for the job, and reduce staff turnover by following the management tips above, in order to create a healthy workforce. 
Subscribe to our Blog
We will send you updates on new, relevant articles that can help your business!