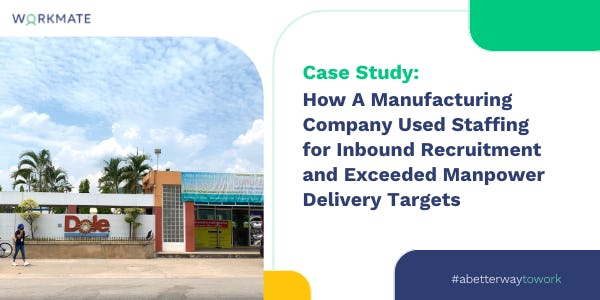 Case study: How A Manufacturing Company Used Staffing for Inbound Recruitment and Exceeded Manpower Delivery Targets
The Challenge
Food manufacturer Dole needed workers to help with production at its manufacturing plant in Hua Hin. It was looking to hire 200 workers within Thailand who could start fast, in time for the harvest season. The company was experiencing a lack of talent within the manufacturing plant's area, and struggled to fulfill hiring demand.
The challenges that Dole faced were: 
Building a fresh worker pool by recruiting and relocating workers from surrounding provinces;
Ensuring that workers met specific health and COVID-19 requirements; and
Meeting manpower delivery targets within time constraints.
Results 
By outsourcing recruitment for its manufacturing plant to Workmate, Dole managed to meet its manpower delivery goals, exceeding delivery targets by 10% within the short deadline. 100% of the new workers were local Thais who were relocated from surrounding provinces. Impressed by the results, Dole increased its staffing contract with Workmate by 50% and saw an additional 100 workers that were successfully hired within 15 days. 
Customer story
A leader in the fruits manufacturing space, Dole is a global company and exporter of canned fruits and juices, as well as fresh fruits such as bananas and pineapples. Among its production plants in Thailand, Hua Hin is one of its biggest manufacturing locations that employs 2,400 full-time production workers. 
During peak season when the fruits are ripe for harvesting, an additional 300 workers are hired. Harvest season usually lasts for about 7 months and it is important that Dole maintains low churn rates for its temporary workforce so they can keep up with production during this period without having to replace workers. 
Dole found it a struggle to fulfil its seasonal manpower needs with local workers in Hua Hin, as they preferred jobs within the tourism industry. Tightened border measures also meant that Dole could not leverage migrant workers as it did in the past, while COVID-19 health requirements further reduced the pool of available workers.
To resolve these challenges and build a reliable temporary workforce, Dole turned to Workmate for its staffing needs.
Building a strong, temporary workforce amidst COVID-19 restrictions and time constraints
Dole wanted a strong, temporary workforce that they could leverage quickly. Workmate worked closely with Dole's Human Resources and Production teams to forecast the manpower needed. Any delay in getting the workers required meant that the harvested fruits will rot, which subsequently impacts Dole's bottom line. 
Amidst border restrictions brought about by COVID-19, the migrant pool of workers from neighbouring countries like Myanmar had dwindled. Dole had to rely on local Thai workers instead. However, from past experience, local workers from Hua Hin tended to have high churn rates as workers preferred higher-paying tourism jobs.
Workmate had to build a fresh pool of workers from provinces surrounding Hua Hin who were willing to relocate for the jobs, were reliable, and fulfilled health requirements such as: 
Being vaccinated
Passing health screening, COVID and drug tests
"Harvest season is very important to us and having the right manpower is vital. Hiring temporary production line workers for a perishable product, while dealing with manpower shortage has been a huge challenge for us. Thankfully, we found a reliable partner in Workmate who had both the technology and local expertise to help us overcome these manpower challenges,"
Ms. Slinwan Lapngampiean
Procurement Director at Dole.
Give your business the boost it needs
From recruitment, performance management, to payroll, we're here every step of the way to support your business. Find out how Workmate can fill in the gaps and deliver results for you.
Leveraging technology to deliver results 
Workmate took on a multi-faceted approach and quickly formed a task force comprising representatives from operations, marketing, sales and product. Together, this team managed the complete hiring process from worker acquisition to the logistics of relocating workers, and onboarding workers onsite. 
To acquire the right workers for the job, Workmate first used a broad-based sourcing strategy that not only leveraged the Workmate worker network, but also utilised online acquisition and Workmate's local communities on channels such as Facebook, digital advertising, and worker testimonials to attract workers. 
Candidates then went through a robust qualification process that was streamlined by Workmate's technology. Potential workers were automatically screened with custom qualifying questions early on in the process, which was an efficient way of identifying workers who met the criteria. 
Once the right workers were found, Workmate had to organise the logistics of relocating these workers from different areas. This process includes checking that the workers passed health requirements, securing lodging for them, and onboarding them to Dole's processes. Much care was taken to ensure workers were comfortable and informed throughout this process. 
Workmate's technology and expertise eventually helped to quicken the overall hiring process and enabled Workmate to relocate and deliver the first batch of workers within just two weeks. 
As a result of how smoothly the entire hiring process was run, many workers had positive feedback, which resulted in strong word-of-mouth recommendations among their communities. This in turn led to more inbound applications and high retention rates that bolstered Workmate's ability to deliver the manpower required within tight time constraints. 
By constantly engaging with Dole to coordinate and plan ahead for manpower delivery in batches, Workmate built an efficient and effective process that resulted in the staffing of more than 200 workers at Dole's manufacturing plant in just one month. 
Workmate, a reliable staffing partner that exceeds expectations
When Dole first looked for a staffing partner, they struggled to find outsourcing agencies that could confidently meet their multi-faceted requirements. 
Backed by technology and strong internal processes with an acute understanding of the local market, Workmate didn't just meet Dole's manpower requirements within the deadline. Instead, Workmate exceeded expectations and delivered 10% more workers than the initial 200 that Dole requested. 
Impressed by the results, Dole decided to increase the contract by another 50%. Workmate managed to deliver another 100 workers within 15 days; manpower delivery grew week on week and reached up to 5.5 times at its peak. Good communication was key in achieving these results and Dole recognised the synergy they had with Workmate. 
Realising that they could achieve more with Workmate, Dole has since increased Workmate's involvement by getting the operations team to deploy dedicated supervisors to manage workers on-site.
As Ms. Montha Intarapreecha, HR Director at Dole has shared:
"We are very impressed by the results that Workmate achieved for us. They are incredibly customer-focused and have constantly gone beyond their scope as a staffing partner to deliver more than what is required. Having seen how quickly they were able to solve our hiring challenges, they are now a long-term staffing partner for us."
Ms. Montha Intarapreecha
HR Director at Dole
Give your business the boost it needs
From recruitment, performance management, to payroll, we're here every step of the way to support your business. Find out how Workmate can fill in the gaps and deliver results for you.