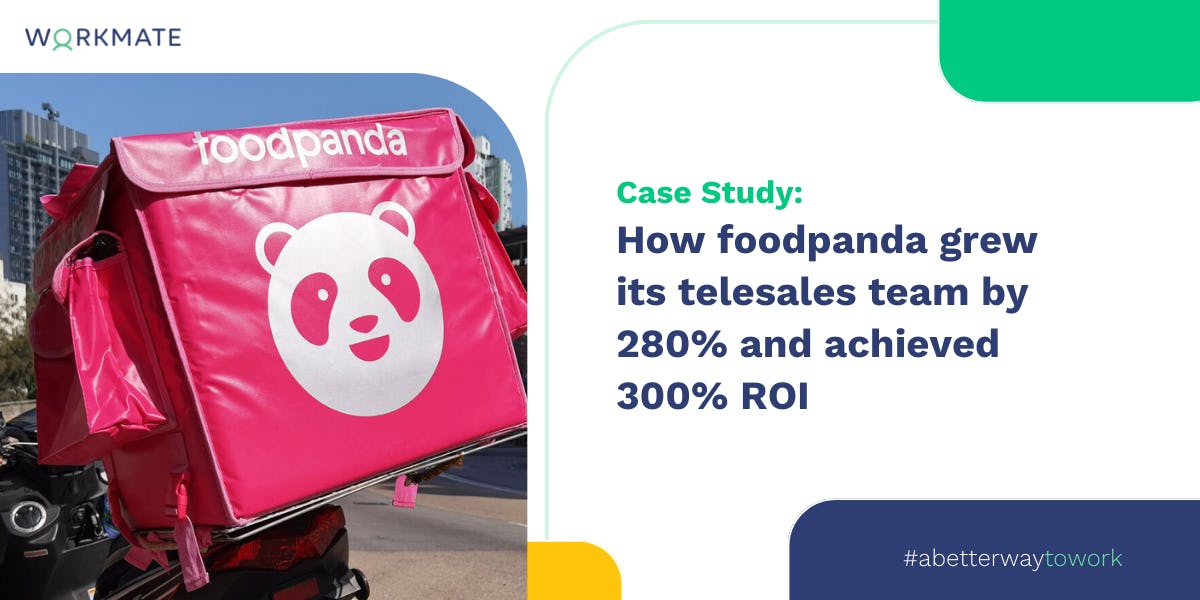 Case Study: How foodpanda grew its telesales team by 280% and achieved 300% ROI
The Challenge 
A leader in the quick commerce space, foodpanda saw an opportunity to boost revenues with its new in-app advertising feature. They had the product ready and a database of more than 100,000 restaurants to approach within a month. The only thing missing was a specialised telesales team to bring this vision to fruition. Time is money, and foodpanda had to find a way to scale up this team fast, turning to outsourcing services to build an external telesales team to drive business growth. 
Results 
Workmate helped foodpanda fill in their manpower needs fast with qualified, experienced workers that displayed an attrition rate that was 50% lower than other outsourcing agencies. In just 6 months, foodpanda grew its telesales and account management team by 280%, increased its market share in the space by 20%, and exceeded its Key Performance Indicators (KPI) by 114%, bringing an ROI of 300%. 
The Customer Story 
The hunt for a quick and effective way to scale up a new business process 
A popular food delivery service and pioneer in the quick commerce industry, foodpanda is constantly on the move to up its game. For an additional revenue source, they decided to start monetising their app through advertising, . 
What they needed to do was to sell in-app advertisement banners by reaching out to more than 100,000 listings on their existing database. This involved reaching out to each restaurant individually, following up with interested parties and providing after-sales service, all within a short period of time. 
Because of how fast things move in this industry, foodpanda was looking to get results within a month. However, advertising wasn't their core business and the effort to hire, train and manage a dedicated telesales team from scratch was considerable and time-intensive. 
To save time and cost, it made more business sense to outsource this business process to someone who has the expertise and technology to build a successful telesale team for foodpanda. 
Building a strong, high-quality workforce with tech and data 
When looking for an outsourcing partner, foodpanda wanted someone who could take charge of the entire project, from hiring and training, to managing this new telesales team to achieve business targets. Workmate took on this task and exceeded expectations with a strong qualification process and focus on operational excellence. Here's how. 
Using data to hire the right workers fast 
Access to strong data-rich worker insights meant that Workmate could streamline the hiring process and onboard new team members quickly. Potential candidates were automatically shortlisted based on reliability, experience, skills, past ratings and availability. 
By relying on referrals from its workers' network and assessing workers based on historical performance, Workmate was able to identify high calibre workers that were a good fit for the role. And the results speak for themselves — workers hired by Workmate performed better and were less likely to leave their roles. At 3%, the churn rate was half of other agencies for the same project. 
Strengthening operations with a well-trained, fully remote team 
As pioneers in setting up remote teams – even in pre-COVID times – Workmate was able to pull together a team that could Work-From-Home (WFH) fully. The advantage of this is being able to recruit from anywhere, which opens up the pool of candidates, while ensuring that operations remain strong amidst disruptions brought on by COVID-19. 
While it can be tricky setting up a team remotely, Workmate's stringent online training process meant that customer service levels were kept high and represented the foodpanda brand well. For instance, there was a strong emphasis on practical training where team members practised their pitch till it was perfected and trainers listened in on calls for quality assurance. 
"When recruiting during the pandemic, there was the extra challenge of training new hires while working from home. We were impressed with Workmate's ability to train the team remotely while keeping customer service standards higher than before. They are truly leaders in this field".
Bhavani Shankar Mishra
Regional Director of Logistics (APAC), foodpanda. 
Due to the tight processes implemented, fewer supervisors were required, resulting in further savings in manpower cost for foodpanda. 
Delivering results with effective people management 
Workmate helped foodpanda achieve high retention rates among its telesales agents by 
introducing a well-structured employment package that offered workers attractive compensation based on their performance. 
This, along with effective people management, meant that the telesales team was motivated and equipped to deliver quality results. 
Quality workers are your best investment 
By partnering with Workmate, foodpanda achieved a high-quality telesales team that delivered results and service quality with a strong ROI. Together, a tech-enabled recruitment process that screened for the right candidates, training processes that focused on high performance, and an effective compensation model led to the creation of an efficient team that could do more with less. 
To bring home the point, the average revenue of the telesales team was more than double of what was expected while the best performing telesales agent brought in more than 3.5 times the sales target! As a result, foodpanda more than doubled its revenue targets, exceeding KPIs by 114%. 
But that's not all. Having built such an efficient telesales team, foodpanda maximised its ROI by up to 300% — courtesy of the cost savings brought about by requiring fewer supervisors, higher retention rates, and maintaining a quality assurance at 90%. 
Because of the strong processes in place, foodpanda managed to build a stellar telesales team and achieved its goals and more within a short period of time. 
"The results are phenomenal. With Workmate's technology-driven capabilities and laser-like focus on operational excellence, we can now achieve our business goals quickly without having to worry about building a high quality, high-performance team from scratch".
Bhavani Shankar Mishraa
Regional Director of Logistics (APAC), foodpanda
Subscribe to our Blog
We will send you updates on new, relevant articles that can help your business!