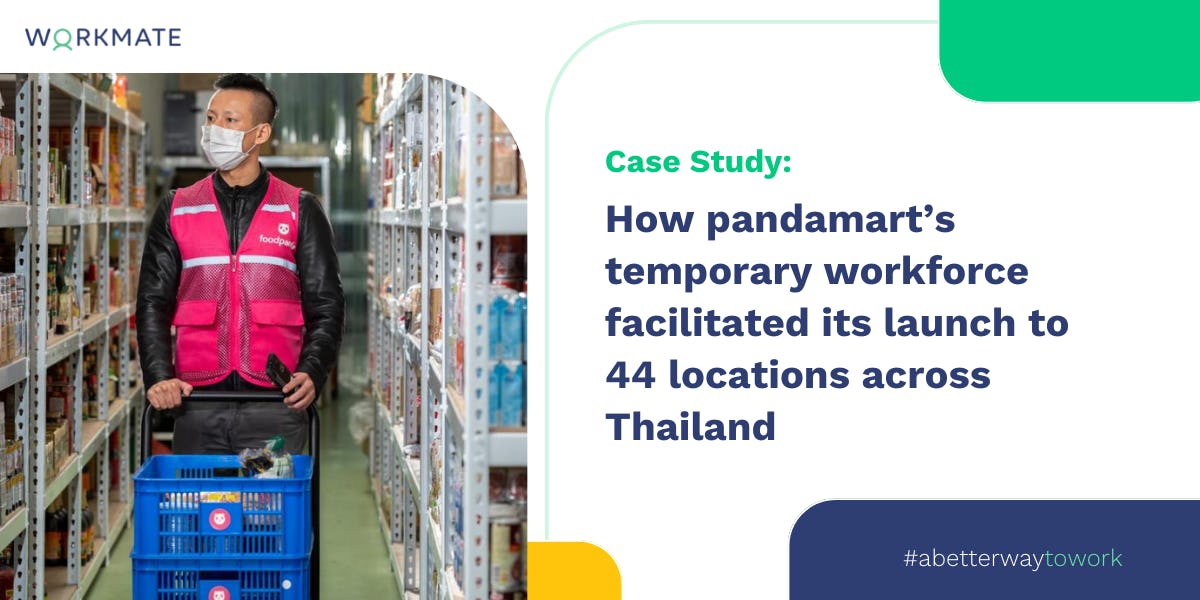 Case study: How pandamart's temporary workforce facilitated its launch to 44 locations across Thailand
The Challenge 
Quick-commerce leader foodpanda had successfully launched pandamart in Bangkok, and was looking to replicate this success in other parts of Thailand. As part of their expansion plans, they were looking to start operations from scratch in a few new areas and hire over 300 warehouse workers. 
However, because pandamart was a new business vertical with completely different manpower requirements, foodpanda didn't have the recruitment expertise to hire workers for its new warehousing and logistic needs. 
Results
Through Workmate, foodpanda successfully built up a network of reliable and experienced warehouse workers in the new areas that pandamart was expanding to. Not only did they fulfil all manpower vacancies for pandamart, they also scaled up the hiring of quality warehouse workers from 5 locations to 44 locations across Thailand in just 8 months.  
The Customer Story
pandamart was first launched in Bangkok with just five stores, but it did so well that foodpanda saw the opportunity to expand it to other new areas in Thailand. The plan was to set up 39 new pandamart stores outside Bangkok, and with it, more than 300 vacancies needed to be filled. 
However, this came with challenges. Because these were new areas that foodpanda was venturing into, there were no existing workers to rely on and they had to build teams from scratch. Recruitment also had to be done differently as methods that worked well in metropolitan Bangkok may not work as well in more rural areas.
To scale up its hiring efforts, foodpanda relied heavily on Workmate's staffing expertise to build a robust team of workers at each of these 39 new locations. 
Building an effective operational team in a new business vertical
With the launch of pandamart, foodpanda was venturing into a space it had not been before – warehouse logistics. It was more important than ever to have an effective operational team made up of reliable warehouse workers in order for things to run smoothly. 
While foodpanda was a leader in the quick commerce space with vast experience facilitating last mile delivery between merchants and consumers, warehouse logistics was not something they had done before and they did not have the recruitment expertise to hire the right workers for pandamart. To resolve this, they decided to outsource the hiring of warehouse workers to a partner who had strong recruitment expertise in the warehouse and logistics sector – Workmate.
It was paramount to get candidates with the right fit, such as reliable workers who show up for work, as well as those who are loyal and dependable. This way, foodpanda could keep its turnover rate low and minimise potential disruptions to pandamart operations. With its network, resources, and insights on worker behaviour, Workmate delivered the manpower that foodpanda required. 
Staffing expertise driven by technology and service excellence
To manage their manpower needs for pandamart, foodpanda decided to partner with Workmate and leverage their staffing expertise to build a new workforce in their expanded locations. After all, recruitment is Workmate's DNA, enabled by technology and a customer-focused mindset.
With Workmate, foodpanda fulfilled their manpower needs for pandamart quickly without compromising on quality. Over 300 hundred vacancies were filled in just 8 months, in no small part due to Workmate's tech-enabled recruitment approach, starting with its screening process. 
By relying on technology, Workmate implemented a stringent but efficient screening process that evaluated and hired workers based on their reliability, experience, and past ratings. Workmate managed to streamline the entire hiring and onboarding process, which led to faster manpower delivery for foodpanda. 
Foodpanda also saved on costs by outsourcing staffing for pandamart to Workmate. There was no longer a need to train new workers or provide benefits to all workers on the payroll regardless of whether they worked, as this was now handled by Workmate. In return, foodpanda could focus its resources on the business instead. 
By outsourcing the hiring of workers to a partner with the right resources and tools, foodpanda achieved greater productivity and saved more in the long run. 
Expanding pandamart stores from 5 locations in Bangkok to 44 locations nationwide
With Workmate's help, foodpanda was able to scale pandamart's expansion from 5 locations in Bangkok to 44 locations across Thailand in just 8 months. Workmate delivered the temporary workforce that foodpanda required with efficiency, mostly by getting an operations team that was experienced at building workforce liquidity in new areas to kickstart recruitment on the ground. 
With the momentum of workers' word of mouth, Workmate built a network of loyal warehouse workers ready for deployment whenever the need arose. By relying on their technology to identify and manage reliable workers, worker turnover was kept low at 5.4%. 
As a result, foodpanda decided to take on a longer-term partnership approach with Workmate: foodpanda would share expansion plans on a quarterly basis, and this lead time allowed Workmate to take on a more strategic approach in delivering hiring targets. 
"Workmate is a valuable partner who has brought much to table. From the rich data insights enabled by their technology, to their team of experienced operations specialists, Workmate delivered a high quality workforce that met our needs in a completely new space without fuss or delay. "
Bhavani Shankar Mishra
Regional Director of Logistics (APAC)
Workmate, a trusted staffing partner that goes above and beyond
Although foodpanda first reached out to Workmate to fulfil their staffing needs for warehouse workers, this gradually expanded into other roles as Workmate proved that it could consistently deliver workers of excellent quality. For example, several warehouse workers that were hired by Workmate were promoted to become team supervisors after proving that they were reliable and suitable for the job. 
With a proven track record, Workmate was entrusted to manage all staffing for pandamart's expansion. On top of that, foodpanda started outsourcing the hiring of additional roles to Workmate. This included regional positions and other roles such as telesales that required a different recruitment approach compared to hiring warehouse workers. 
As Bhavani Shankar Mishra summed up
"Workmate has been customer-focused and constantly goes above and beyond to deliver. The level of customisation they offer and results always exceed our expectations. No matter if we are looking for a short-term hiring solution, or a long-term partner that we can outsource our non-core resources to, Workmate is our first choice every time."
Subscribe to our Blog
We will send you updates on new, relevant articles that can help your business!