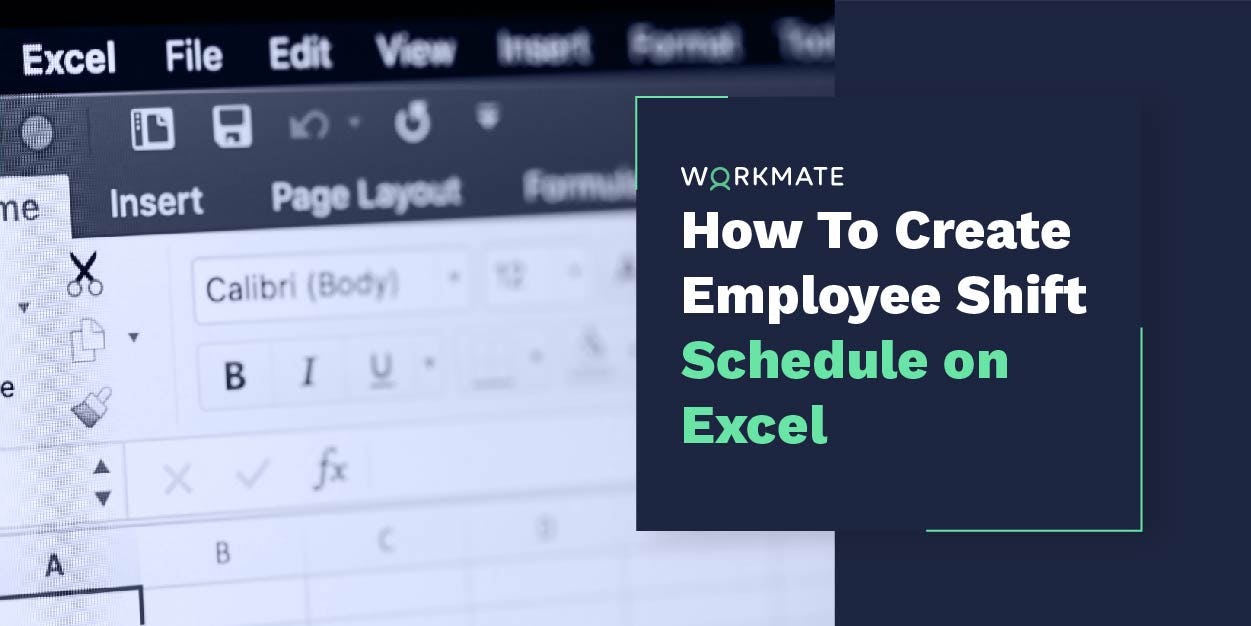 Business: How to Create Employee Shift Schedule on Excel (Free template included)
When managing a shift-based workforce, one of the most fundamental processes a business has to go through is the process of scheduling their workforce. Your business productivity depends on workers showing up to the right shifts, however data shows that managers spend up to 20% of their time on scheduling alone. This is because the blue-collar industry is known to have high no-show rates when it comes to shift attendance, caused by several different factors. 
Many HR and Operations managers utilize excel spreadsheets to organize their workers into shifts. This is the quickest way to create a schedule template that can then be shared with your workforce once they have been assigned. 
Create Free Business Account
Start hiring and managing your workforce today. Instantly create a business account to start your 30-day free trial. No obligation and no credit card required.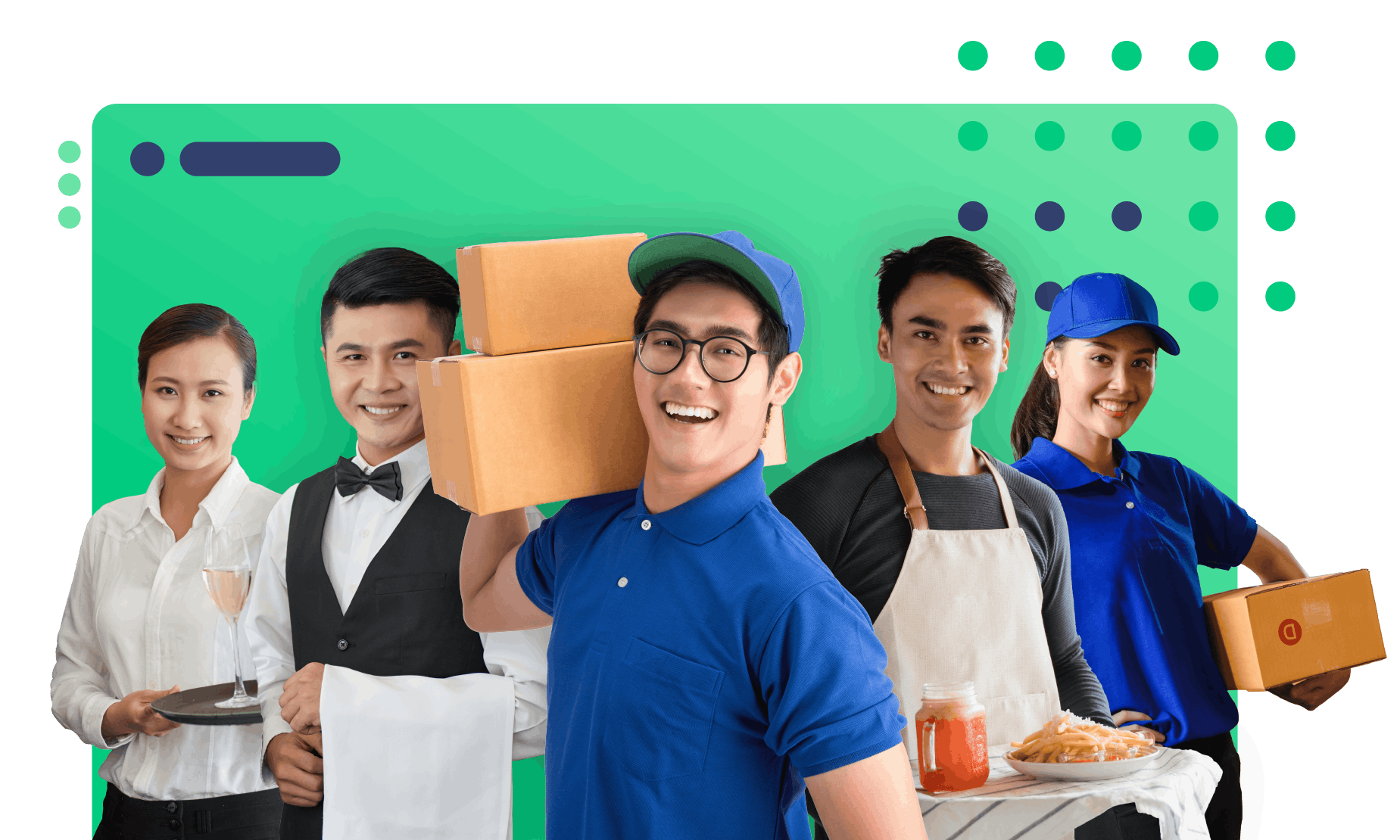 Download your scheduling excel template
To get you started on your shift schedules, you can download our free employee shift schedule template that you can edit on Google Sheets or Excel to fit your business needs. 
CLICK HERE TO DOWNLOAD TEMPLATE
Our free weekly employee shift schedule template is suitable for small business owners managing their own workforce or businesses with a smaller number of employees. 
Read on to see how you can use this free shift schedule template to organize your staff immediately! 
How to use the scheduling template
Make a copy of the Google sheets to start using it according to your needs
Fill in the 'Shifts' table according to how many workers you need on each day
Fill in the 'Workers' table with details of your workers, and the shifts you have assigned to them for the week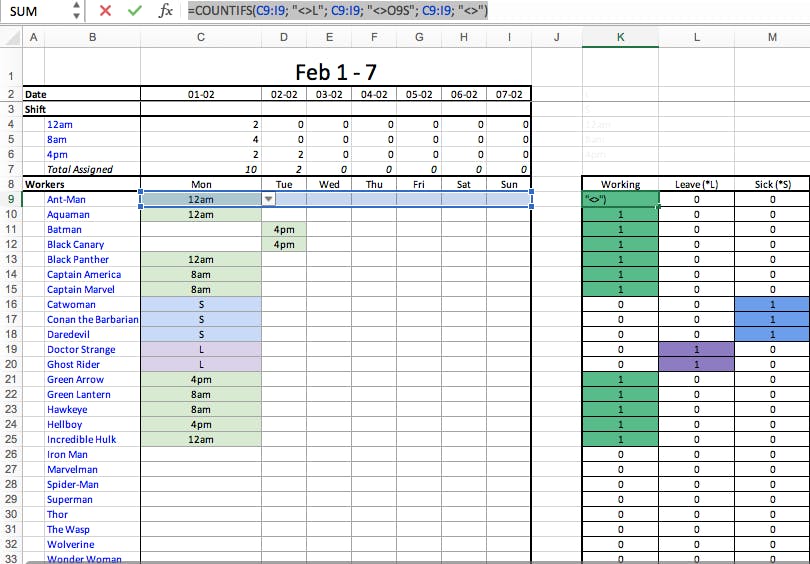 4. You can also use this table to indicate worker attendance for easy reconciliation. Fill in as 'Sick' or 'Leave' to monitor employee attendance. The COUNTIFs formula will calculate the total number of workers that attended the shift. 
5. Duplicate the sheet to account for new weeks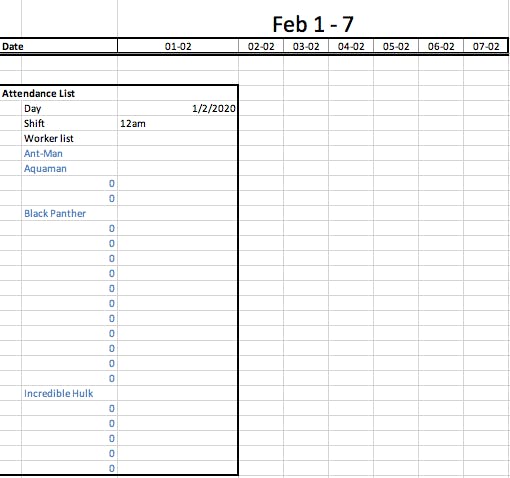 Keep in mind that scheduling your employees on an Excel spreadsheet is only recommended for those managing a small workforce.
Reconciling, communicating and documenting shift schedules via Excel could be prone to human error when your workers are in the hundreds or even thousands. Not to mention the back and forth coordination required when there needs to be a shift change, either from the business or from worker availability. This can eventually lead to poor shift attendance rates and lower productivity. 
To learn more about the best practices of shift management, you can download our Ebook: Ultimate Guide to Effective Shift Scheduling now!
Automated shift scheduling software
For easy, error-prone scheduling that optimizes your employee attendance rates, you can switch to a digital shift scheduling software, regardless of your workforce size. 
Workmate is a workforce management platform equipped with this shift scheduling software solution - so you can manage your shifts without errors due to automated technology.
What can you do on Workmate's shift scheduling software?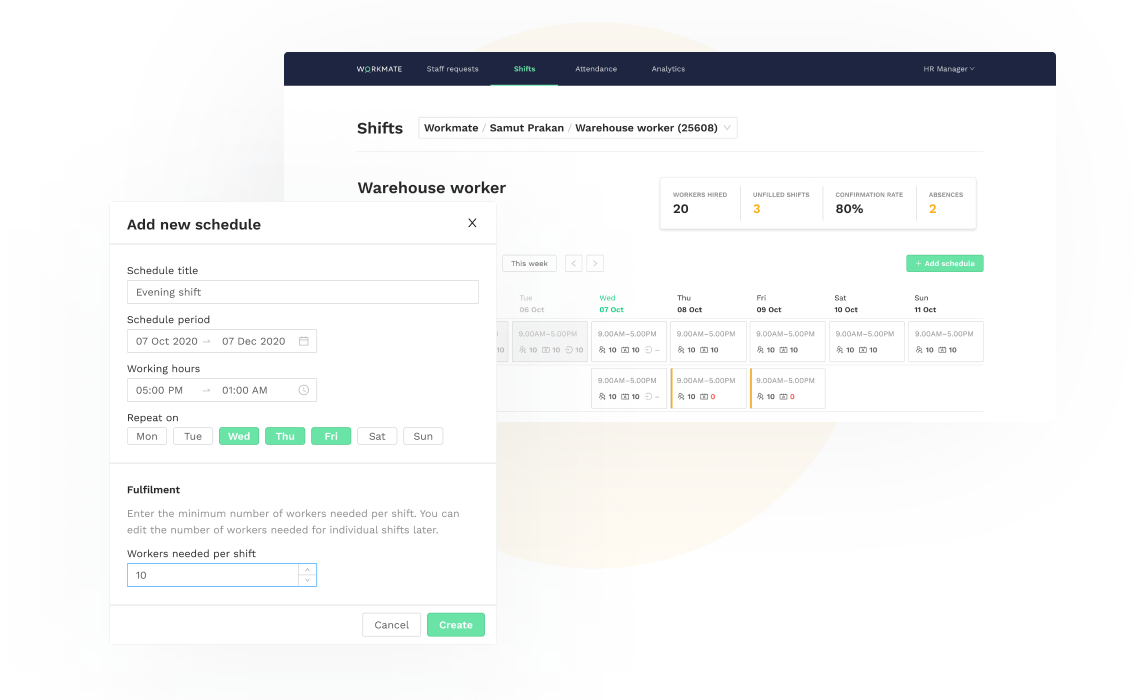 Create and manage hundreds of shifts in one automated dashboard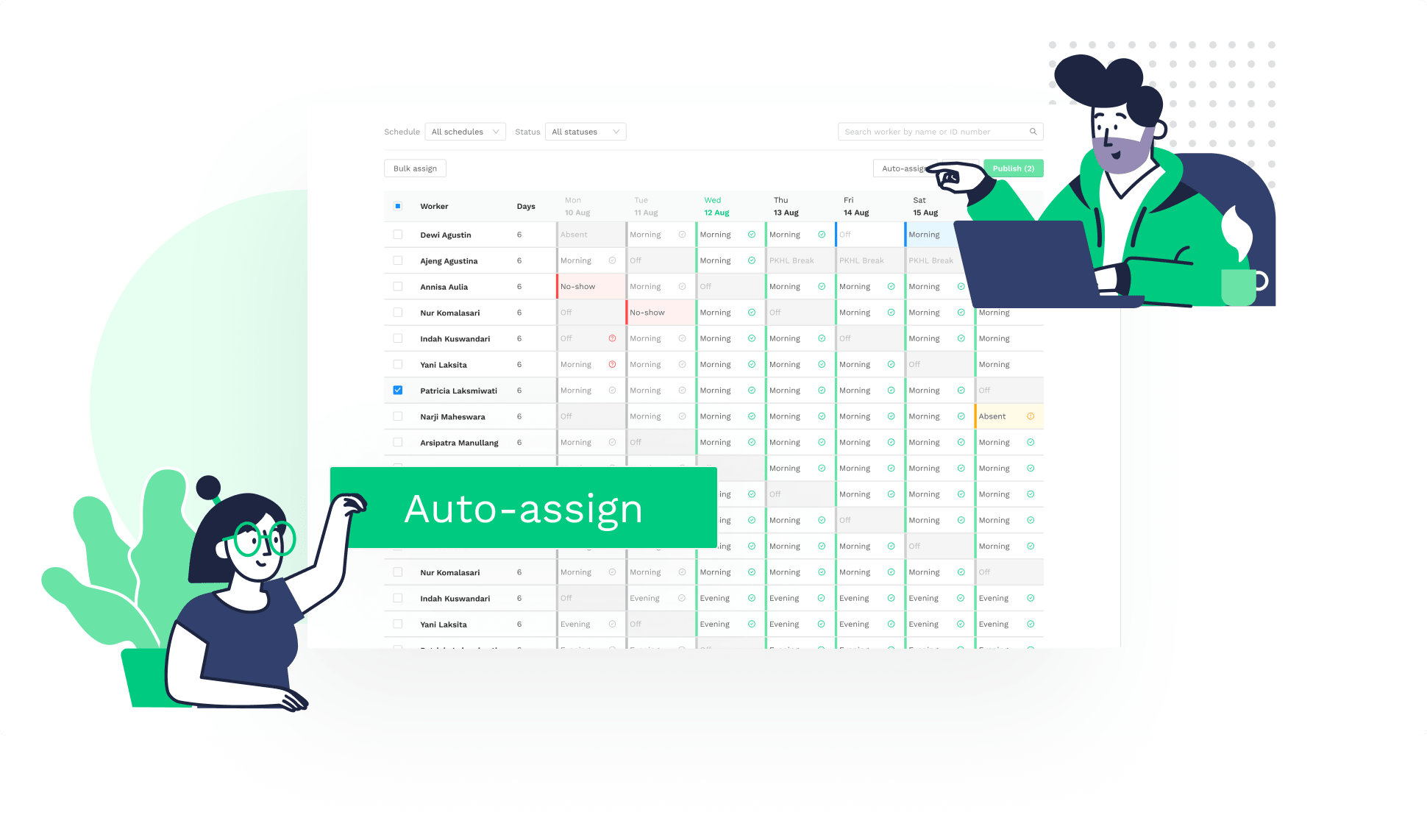 Auto-assign workers to your shifts in the click of a button to ensure each shift is filled with the right worker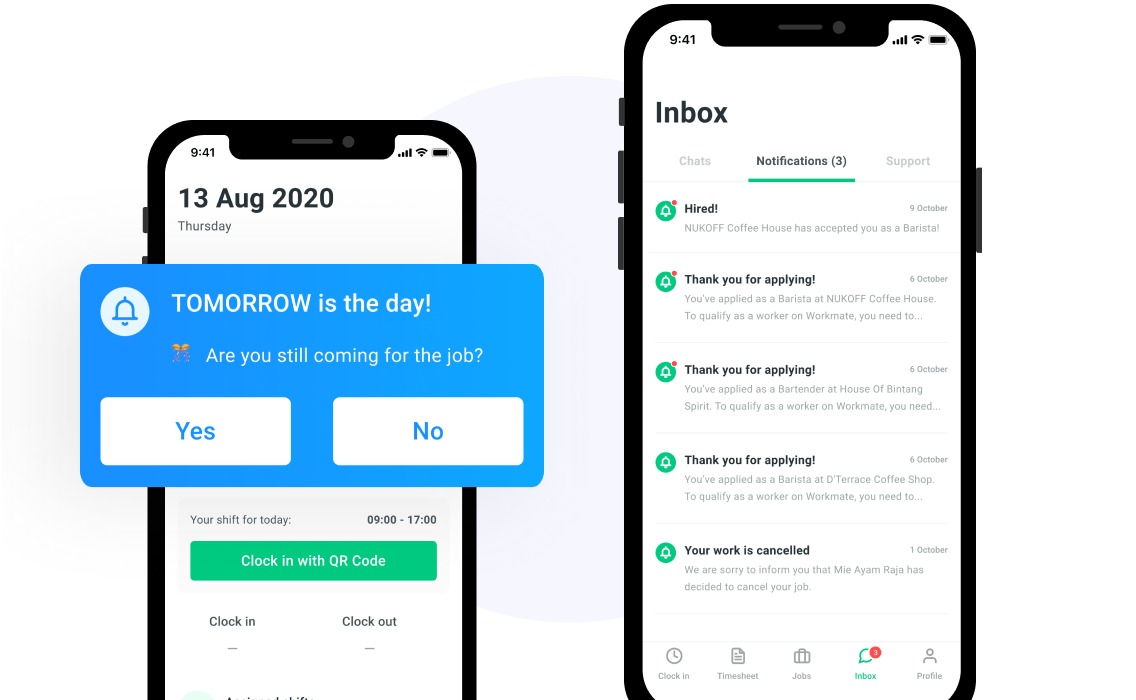 View real-time shift confirmation from workers through the integrated Worker App.
Save time on communicating back and forth with on-ground supervisors and workers, you can manage this all through the integrated platform and make the appropriate adjustments to ensure you hit all your productivity targets. 
Switch to a smarter way to schedule shifts at scale. Get started with Workmate- and book a free consultation with our experienced account managers today!
Subscribe to our Blog
We will send you updates on new, relevant articles that can help your business!