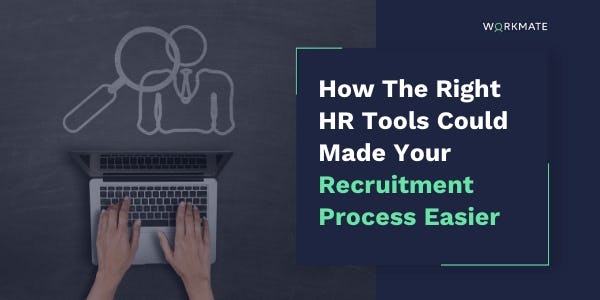 Business: How the Right HR Tools Could Made your Recruitment Process Easier
Frontline workers constitute over 2.7 billion people of the global working population.
These are employees who provide an essential service or key public service which often require them to work outside their home.
Hiring frontline workers might have its own challenges, with common challenges including finding reliable workers, to managing frontliners on a daily basis. 
This article will define who frontline workers are and uncover the best recruitment tools, technology and solutions to support your hiring process. 
Defining Frontline Workers 
Frontline workers, also known as key workers, are usually lower-skilled employees who provide an essential service or key public service which often require them to work outside their home. 
Frontline workers also has few synonyms that are often used as the same term:
Deskless workers
Key workers
Mobile workers
Field teams
Offsite teams
Peripatetic workers
Blue-collar workers
They are categorized into different groups and industries. Here are examples of common frontline roles:
Food & Beverages
Food and Beverage Service operations involve a multitude of activities which engage the staff right from purchasing raw ingredients, preparing food and beverage, keeping the inventory of restaurant supplies and provide service to customers. 
Common roles on F&B frontlines such as: cook helper, dishwasher, host/hostess, waiter/waitress.
Warehousing & Logistics
Ecommerce warehousing refers to the storage, packaging and logistics of physical goods that are sold online.
These normally take place in an eCommerce warehouse or fulfilment centre where goods are prepared for delivery. 
These frontline roles typically are in-charge of sorting, picking, packing and delivering packages to consumers.
Roles include warehouse pickers, packers, storage, drivers/riders for ecommerce and logistics companies.
Often the needs for hiring on this type of warehouse are rather in flux, depands on the current demand, seasonal or campaign based. For example, there may be a surge of demand to hire warehouse workers during seasonal events like Christmas.
You might find retail warehousing are more in-house and involves more routine management on a daily basis at one or more centralised branches before goods get transported to retail outlets.
Often, these involve managing inventory such as keeping stocks and preparing goods for delivery before they are displayed at retail stores. 
Manufacturing
Manufacturing jobs can involve the mechanical, physical, or chemical transformation of materials to create new products to be distributed to other businesses or consumers.
Manufacturing industries could even be categorized into common frontline roles in manufacturing: Operator, Technician, Assembler, Machinist, Welder and Technician.
Explained above are the roles and type of workers you might come across based on different manufacturing companies. 
We'll cover the challenges that Human Resources face when trying to hire or retain frontline staff in these roles. 
Digitally enabled manpower and workforce solutions
Whether you're looking for a self-service or managed services solution, we're here to help. Find out how Workmate can cater to your manpower and workforce management needs.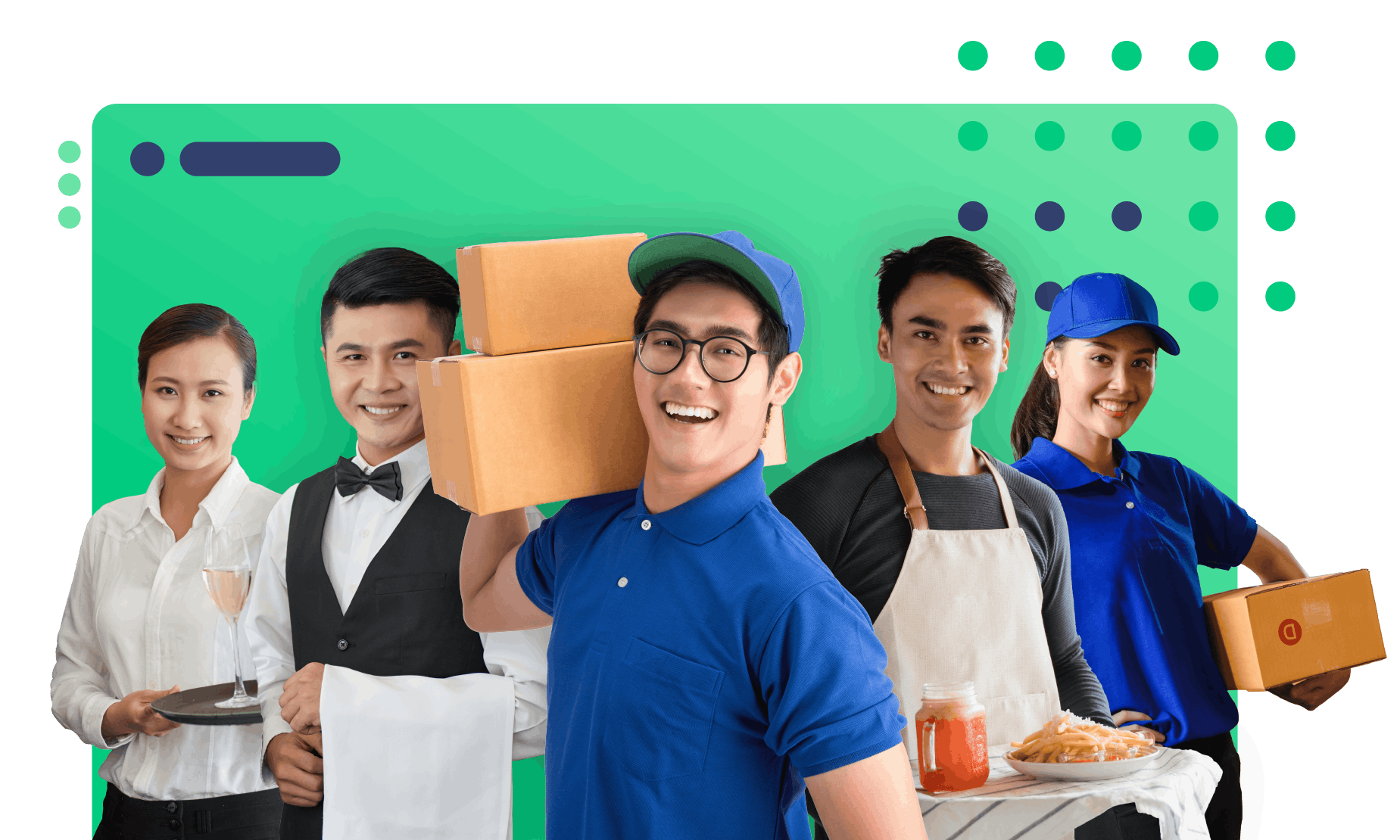 Common HR challenges or frontline recruitment
There are several challenges to recruit frontline workers that HR and companies have been facing.
We summarize some of the top challenges to recruiting the right frontline candidates: 
Finding qualified applicants
One of the main challenge is to find workers who have the right skills and abilities for the company's needs.
In some industries, there are several roles that require a number of specialised skills, for example, for warehouse operators, workers who have previous experience are needed, there are also kitchen helpers in the F&B industry where some experience in the relevant roles are more valued. 
Often, such roles require more screening or interview rounds to ensure applicants have the right skills before the recruiter or human resource manager shortlists them further.
Availability to work
The availability of workers is also a challenge, especially if the company needs to recruit quickly.
Some of the challenges that HR facing to assess worker availability: 
Location proximity
If a staff lives too far or has limited access from the work location, there is a higher chance that they will bail or arrive late for their shifts.
Insufficient worker supply
HR might be done their best broadcast the job post, but there may be some roles where worker supply is limited in the market. To wide-spread the vacancy, sometimes the market are sufficient enough to support all the workers needed — HR needs to have backup plan to do hiring
Skilled workers are not available in the market
Skilled workers are often needed in F&B and Manufacturing industries. Companies might choose over skilled persons rather than do training all over again. 
High season demand
This often happens in Warehouse & Logistic companies where monthly e-commerce campaigns happen, as the backbone to deliver packages to end-users, warehousing needs to be flexible to recruit more workers and finding lots of workers in such a short time could be a blocker for the HR. 
Worker reliability
Finding the right workers with a good attitude and work ethic is one of the challenges found in recruiting informal workers.
For example, the no show workers on the first day of work results in wasted time and resources from the hiring manager, adding inefficiencies to the process.
In such cases, human resources or recruiters have to look for other new workers and repeat the recruitment process again.
This is often hard to identify during the hiring process, as candidates can appear eager to start but end up not turning up for work, leaving an operational gap and frustration for the Human Resources team.
Manual and inefficient hiring processes
Recruiting at a large scale with a manual system
A number of industries need to conduct mass and periodic recruitment to meet their operational targets, but often the process is done manually and are often unstructured.
The manual process includes A-Z recruitment steps, from sourcing the candidates, selecting, contacting, interview to documenting contract — often, these steps are conducted across different systems (excel, HRMS or Applicant Tracking Systems), personnel (staffing agencies, HR, operations, supervisors) and paperwork with little or no integration.
Such manual legacy processes have questionable efficiency that have repercussions on resources and time.
A number of industries need to conduct mass and periodic recruitment to meet their operational targets, but often the process is done manually and are often unstructured.
The manual process includes A-Z recruitment steps, from sourcing the candidates, selecting, contacting, interview to documenting contract  — often, these steps are conducted across different systems (excel, HRMS or Applicant Tracking Systems), personnel (staffing agencies, HR, operations, supervisors) and paperwork with little or no integration. 
Such manual legacy processes have questionable efficiency that have repercussions on resources and time.
Too much coordination work 
Communication is often done using different disintegrated platforms.
For example: the recruiter gets a referral for a worker, the recruiter must contact the candidate by documenting it first via excel, then save the candidate's number on his cell phone and then contact him.
Confusion could also happen in terms of managing several the group chats and personal conversations as well as onboarding all the contacts from one job board to another job board.
All of these might be something HR gets used to doing, and often go unnoticed as opportunities for productivity improvement.
There are not only time and resource wastage, but also privacy issues if HR or recruiters use their personal phones to contact and communicate with candidates.
Too many platforms (manual tracking on excel due to diff sources of candidates)
Using too many software and platforms are prone to missing data and human error, HR even could lose their data due to manual documenting.
HR might even need to go back and forth to different platforms just to contact a worker. This  small tasks block the productivity of recruiters.
Contract management for temp/daily workers
When making a new hire, it is essential for the contracts to consider the long-term interests of both the company and the employee.
Compliance with local manpower regulations are also important. However, contract management can often be a complex process for part-time or campaign workers that may have a shorter contract period.
The manual effort to manage these contracts can be too heavy and frequent to respond in time to expiring contracts or urgent hiring needs.
With clear contract management, companies can operate safely while remaining fair to their employees. 
Worker retention
Frontline workers are more likely to churn due to the lower commitment to jobs, type of work, shorter contract periods, work environment, salary comparison and even unfulfilled rights. 
Companies must balance the short and long term needs of the organisation. Worker churn costs the company more in the long-term and it is always in the company's best interest to retain good employees.
This is a challenge as the short-term goals may not often recognise the longer term costs of worker churn. Companies need to start being fair and engage their workforce to minimise unneccessary worker churn.
Top Advanced Hiring Tools in Indonesia
To address the challenges mentioned above, we recommend leveraging technology-based recruitment tools to optimise hiring efficiency and processes for your frontline recruitment. 
These tools are grouped into the three main components of the hiring cycle: candidate sourcing, hiring processes, and hiring outcomes. 
Here are practical tips to leverage technology and recruitment tools to improve HR efficiency for frontline recruitment. 
Tools for smarter candidate sourcing
There are conventional ways to reach and find frontline workers.
Some common methods include as social media groups, recruitment forums and referrals. Many big companies also do open walk-in interviews to bulk recruit rontline workers. 
While these ways of sourcing can bring very broad reach, they are not targeted and focused at getting the most qualified workers for the job.
The number of interested candidates fluctuate heavily based on the reach of each channel, and not everyone who responds will formally apply for the job.
More often than not, the number of actual applicants from these channels do not consider the number of hires required for the job, especially if you are hiring at scale, leaving your application rate to chance.
Choosing the right tools for your candidate sourcing could be divided into two different type of tools: 
Leveraging worker insights
Traditionally, this would refer to an applicant's resume, but in frontline hiring, resumes are uncommon.
Even if the applicant has a resume, most of their work history are unverified. 
There are now tools that document workers' relevant demographic data, experience and skill levels.
Workmate's recruitment software matches candidates based on these data points to help you find higher quality and more dependable workers based on verified information.
Workmate's worker insights include information such as: 
Location proximity
Past verified experience
Skill levels
Past supervisor ratings
Vaccination status
Managed services solutions or staffing solutions
Staffing solutions help you organize the workforce so that you can save up your time, recruit in bulk, manage your worker contract and provide frontline workers with more specialized skills 
Tools to automate your hiring processes
Where possible use software that would also integrate your hiring process.
Planning and setting up a process can be time consuming, but ultimately rewarding in the long run, multiplying the time and resources saved for your company.
To help you get started, you can start looking at specific process integration tools to support your recruitment process for frontline hiring.
Integrated communications
Instead of copying contacts, or communicating on multiple channels with candidates, try to look for integrated communication tools that simplify the communication process.
Some job boards offer communications within their platform, or integration with email to track communications.
These are less relevant for frontline hiring where most communication is done on informal channels like Whatsapp, LINE or Facebook messenger.
Look for tools that use technology to make communications more seamless for your team. For example, Workmate's hiring software allows group and one-on-one chats directly with applicants so there's no need to add contacts on other channels. 
Automated screening questions 
Automated screening questions will help HR to better source their candidates.
Such features can include customisation for HR teams such as adding their own qualifying questions for every applicant to shortlist only the most qualified responses for follow up interviews.  
Some pre-assessment tools you may find today include Testgorilla, Harver, Picked.ai 
One of the most time consuming aspects of hiring is coordinating interviews.
There are a few options you can use for interview scheduling software.
One option is using an interview scheduling tool, integrated hiring tools, and using office suites such as Google Office (Gcals) or Microsoft Teams. 
But using the office suites might count as a bit manuals — cause HR might need to switch on different platforms to arrange for interview, HR also need to export the contact by adding emails. 
Whereas interview scheduling tools will definitely save up your time by handles the early-stage engagement and transitions candidates that meet your requirements for a scheduled interview with your recruiter with the AI interview scheduling — but it's not integrated with the talent pools like hiring tools. 
Hiring tools has its own worker network and scheduling systems that help HR find workers directly, get connected and set time for the interview right away. 
Schedule your interview right away without having to export all the data to another platform or excel sheets, set date on one platform. 
Automated contract renewals
Compliance worry-free, manage and update worker contracts in one platform. No more missing on contract renewals, stay on track with all workers' contract due date. 
ATS funnel management 
The ATS management system gives you access to multiple job boards by simply posting once, and consolidating all applicant management on one platform.
An ATS funnel management system will help you to manage job posts across different job board platforms, filters the candidate CV,  but might not help you to cater end-to-end hiring processes, i.e: you might not be able to do short term renewals contract, or communicate directly with the worker
Some of the ATS platforms you may try: Oracle, BambooHR, Bullhorn, Jobvite
Tools for better hiring outcomes
Performance based tracking
One of the challenges in frontline hiring are the high no-show rates. To prevent this, HR can include multiple checks in the hiring process, but these can be limited if the applicant doesn't have much information to share, and there's no certainty that the worker will show up if hired. — Look for hiring tools with performance tracking data insights on your applicants. When hiring for the frontline workforce, relevant data points such as historical reliability, past experience, and proximity to the work location can help you make smarter hiring decisions. Workmate's data-first approach to applicant matching recommends the most suitable candidates based on these data points.
Retention management
Frontline workers are prone to high turnover. Ideally, you would want to hire workers who remain loyal and committed as the cost of rehiring is high. There are several tools that help measure and enhance worker satisfaction. Some of these include data capturing approaches like surveys or neutral platforms like Workmate that allows workers to provide feedback on their work experience. By anticipating worker satisfaction, you will be in a better position to address potential worker churn. Other tools can be more employee-focused, such as providing earned wage access (Kasbon) so employees enjoy advanced salaries and a better quality of life.
Summary
2022 will be the year where HR-automation are the things. This came to conclusions that, having the right tools/software could help business to improve and answer some of the challenges stated above — from recruiting to retaining. Make sure to retrospect throughout 2021, find the challenges and the objective to improve before deciding which tools are the best for your workforce.
Subscribe to our Blog
We will send you updates on new, relevant articles that can help your business!