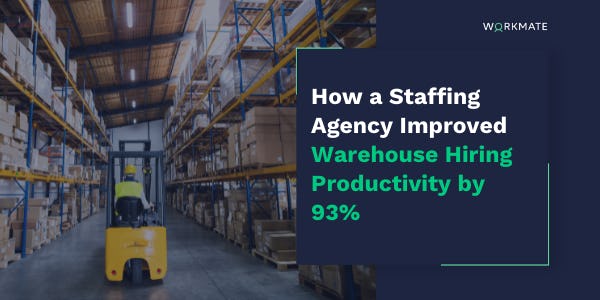 Case Study: How a Staffing Agency Improved Warehouse Hiring Productivity by 93%
The Challenge
Aplus is an outsourcing agency based in Thailand that was hiring warehouse workers manually through social media platforms and word of mouth. This was a tedious process that often resulted in wasted time as there was little control over the quality and suitability of candidates applying for the job.
Results
With its data insights, Workmate helped Aplus significantly reduce the time and effort taken to hire the right workers for different assignments. Aplus took 78% less time to hire e-commerce campaign warehouse workers and 93% less time to hire qualified, reliable warehouse workers for long-term assignments.
The Customer Story
The search for a hiring solution that provides speed and reliability
Aplus is an outsourcing agency based in Thailand with 29 locations in Bangkok, Samut Prakan and Chon Buri. It maintains a 550-strong workforce in the warehouse and logistics sector, and frequently hires warehouse workers for e-commerce companies.
With e-commerce continuing to rise, Aplus was under greater pressure to help clients meet their workforce needs by hiring warehouse staff fast and ensuring they had the relevant experience and skills required. Whether it was hiring a large cohort of campaign workers for seasonal sales, or engaging long-term contract workers with the right experience and skill sets, Aplus delivered. 
The only problem was that they could do much more, if not for the existing hiring process. It was manual, tedious, inefficient and hard to scale, which resulted in opportunity cost. 
Aplus used to hire workers by placing job ads in Facebook groups or reaching out to past workers for referrals. While Facebook groups are free, it was also very time-consuming as Aplus had to respond to direct messages and comments, as well as deal with repeated questions and jobseekers who don't qualify for the role. Most of the past workers they have reached out to also decline the jobs if it's not paid on a daily or weekly basis. This led to a lot of time being wasted just to suss out potential candidates who would eventually accept the job. 
On top of that, the process of reaching out to each potential candidate was an extremely manual process. Aplus had to save the name and number of each individual before calling or texting them on messaging app LINE. This made their hiring process hard to scale, especially as they took on more clients. 
Aplus knew they could do more, but to do that, they had to change the way they hired workers.
Give your business the boost it needs
From recruitment, performance management, to payroll, we're here every step of the way to support your business. Find out how Workmate can fill in the gaps and deliver results for you.
"We were looking for better ways to hire without compromising our commitment to quality and client satisfaction. With its data-driven hiring capabilities, Workmate seemed like the perfect solution"
Kawitatraoha Tantiwut
CEO of Aplus
How to stay competitive: focus on quality
As an outsourcing agency, Aplus takes pride in providing its clients with warehouse workers that are both qualified and reliable, especially in long term assignments that require warehouse staff for a time period between 3 months and a year. 
For these types of assignments, Aplus needs to:
Get enough candidates to secure 20 to 50 hires per contract
Contact each potential candidate individually
Pre-screen the shortlisted candidates 
Set up interviews between the shortlisted warehouse workers and client 
Each step takes time and Aplus used to take 30 man hours spread over five days and two admin staff to hire each batch of workers. But with Workmate, they have since cut it to just 2 man hours - a 93% reduction in time taken - and kept it to a day's work with just one employee. 
Here's how:
1. Workmate's data insights increased efficacy
Instead of contacting each potential candidate individually to assess their interest and suitability, Aplus could now do all that on Workmate. At a glance, they could identify suitable candidates based on data insights like the workers' skill sets, experience, ratings from previous jobs and test scores that are relevant to the applied position. Other indicators like photo and chat active status also helped to determine which candidates were more likely to respond.
Besides having reliable data to make informed decisions, Aplus also saved time by not having to wait for candidates to respond or collate the data received. With Workmate, they no longer had to perform manual pre-screening because the platform was already doing the vetting for them.  
2. Clear presentation of potential candidates builds client confidence
Instead of manually collating potential applicants' data, which took much time and effort, Aplus could just leverage Workmate's comprehensive data by taking a screenshot of each candidate's profile. From the warehouse workers' location to skills and ratings, there was quantifiable and comprehensive information on each candidate. 
This gave clients' confidence, knowing that Aplus had done their due diligence to deliver the right workers that they needed. Because of this capability enabled by Workmate, Aplus was the only new agency to win a large two-year contract with Lazada, a leading e-commerce marketplace.
The easy to share format of worker profiles on Workmate has also boosted efficiency and freed up time for Aplus employees to take on more clients without having to expand the team. 
Hiring warehouse workers, fast 
With e-commerce growing at an unprecedented rate, one of the long-lasting questions that the industry has is how to hire warehouse workers for seasonal campaigns quickly.
Aplus understands that it has to supply campaign workers to their clients quickly in order for their operations to remain smooth and seamless. Sometimes, this can be a tall order, especially during seasonal events like Black Friday or 11.11 sales where Aplus has to:
Compete with the high demand of warehouse workers during these periods
Secure approximately 300 warehouse workers per campaign, and overbook about 10% more in case of no-shows
Contact each worker individually to confirm availability 
Deliver reliable warehouse staff at the speed that clients expect 
With the help of Workmate, Aplus could fulfil the demand for large numbers of campaign workers within a shorter period of time. What used to take them 294 hours to source and connect with workers now took them just 63 hours – a 78% reduction in time taken.
Here's how:
 Having a centralised repository of data
With Workmate, Aplus could easily view candidates at a glance on a single platform as opposed to posting ads on Facebook and spending time adding and calling workers on LINE in the past. Where it took seven admin staff five hours per day over seven days to secure a sufficient quantity of workers, it now takes the same set of employees just three hours a day over three days to do the same. 
Building a reliable workforce
When it comes to hiring seasonal warehouse workers, Aplus usually overbooks workers in expectation that not all workers might turn up. But with Workmate's shift assignment and confirmation features, it's easy to schedule warehouse staff, predict their attendance based on past records, and plan ahead for replacement shifts if necessary. This not only saves time and builds reliability, but ensures that the clients' operations remain smooth thanks to a robust workforce.
Turning opportunities into results
With Workmate, Aplus could leverage on the opportunities within the industry and turn it to their advantage. Finding reliable warehouse workers within a shorter span of time may have been a challenge in the past, but now, it's just one of the ways that Aplus provides value to its clients.
As Ms Tantiwut shares, "Time is money. With Workmate, we've managed to free up time for more meaningful work, take on more opportunities, and go above and beyond for our clients."  
Subscribe to our Blog
We will send you updates on new, relevant articles that can help your business!