We hope you've been enjoying the many possibilities opened to you since your workforce needs were first fulfilled by Helpster from end-to-end. It's been an amazing journey made possible with your continued partnership and support.
Whether you're searching for qualified workers, approving timesheets or completing worker payments, it's been a joy to take these tasks off your hands—helping you save time, effort, and money.
We have exciting news for you. On Monday, 6 May 2019 we are launching a brand new Helpster Client Portal. And yes, it lets you create worker requests and manage your workforce more easily online, anytime, anywhere.
You can look forward to:
Organised worker requests. Finding a specific worker request used to rely on search filters or order arrangement. To help you focus on what needs action, your worker requests are now organised in tabs according to their statuses. You can now open each request in a new browser tab too.
Simplified worker request forms and submission. You no longer have to choose between different worker request types. We've streamlined it into one request form, and your needs are met by adjusting the options. It loads so much faster too.
Easy adding of shift options for the same role. You can set multiple shift times and varying recurring days within one worker request—for example, you can specify two weekday shifts and two weekend shifts for the same role. Even as many as needed, really.
Bulk approval of worker timesheets. Back then you had to mark any disputes first before using the 'Approve all' function. To make things flexible, you can now use checkboxes to select which timesheet records you want to bulk approve. Or, select all to approve all pending and resolved records.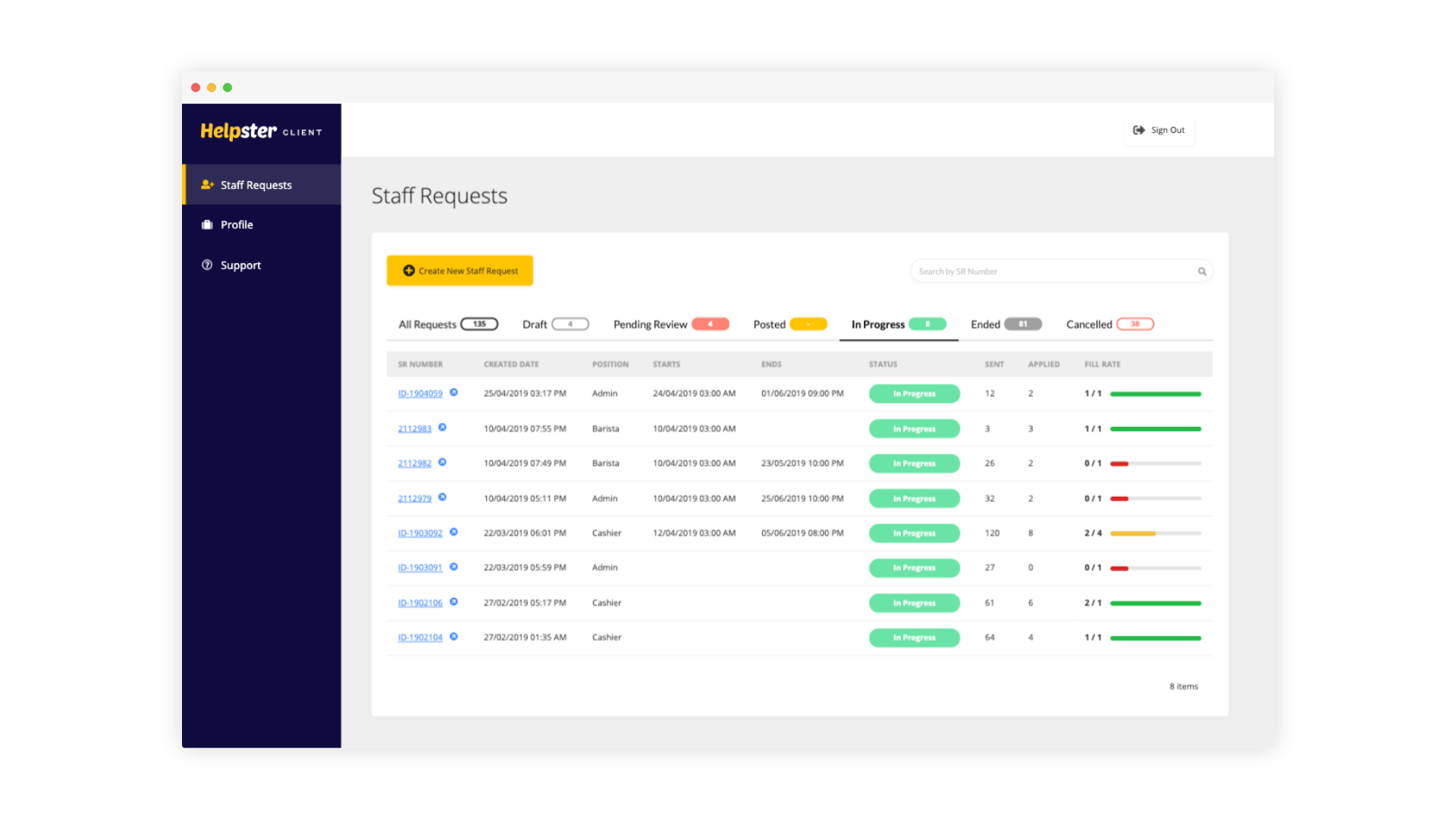 Favourite or banned worker lists, Staff Request Templates, and Worker Chat are not supported in this version. But, this means we're working hard to build improved versions of these features in future releases.
Why are we doing this?
In order to serve both you and workers better, Helpster is performing a systemwide upgrade to all our online products so that everyone can enjoy faster, qualified worker matching and online services. This means better opportunities for workers, and faster fulfilment of qualified workers for your business.
Is there anything that will affect me?
Our system upgrade will take place throughout Tuesday, 30 April 2019 to Monday, 6 May 2019. The existing Helpster Client Dashboard (Indonesia Portal and Thailand Portal) is still accessible during this time but you may notice that:
Worker fulfilment rates are not the most updated
Worker clock-ins on their new Worker Mobile App will not show on the old Client Portal
Is there anything I should do?
The good news is that once the New Client Portal is ready, all of the most updated data will be readily waiting for you when you log in with your existing account details. There is no further action needed on your part, and your confirmed workers will continue attending work on time each day. If you have been personally approving workers and timesheets online, you can do so from 6 May onwards.
If you have any questions during this time, please get in touch with your personal Helpster Account Managers, or our Support Team (Indonesia Support or Thailand Support). We are always ready to assist you.
We believe you will enjoy much more value from the new system, and more reasons to continue with Helpster. We are truly thankful for your support as we keep working to make staffing simple, effortless, and accessible for you.
Sincerely,
The Helpster Team