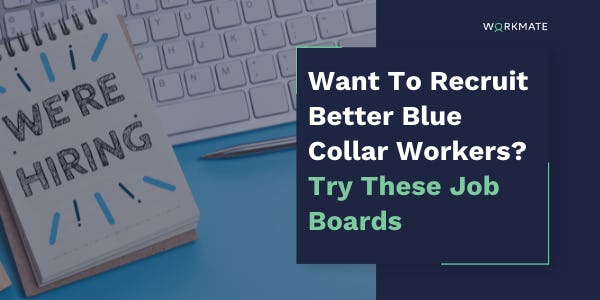 Business: Want To Recruit Better Blue Collar Workers? Try These Job Boards
Stay in the blue-collar industry long enough, and you'll find that one of your key challenges lies in finding and attracting new talent. It's not so much due to a shortage of blue-collar workers--on the contrary, they make up more than 50% of Southeast Asia's workforce--as it is a disconnect between workers themselves and job opportunities.
How do we close this gap? With the advent of mobile and digital, job boards are fast becoming the bridge to close this gap, empowering blue-collar workers with access to more employment opportunities at their fingertips. And for companies in the blue-collar industries, being able to reach out to the right audience more accurately translates to a faster hiring process and at a lower cost.
Four types of job boards for better blue-collar recruitment
If you're looking to enhance your blue-collar recruitment, check out the following job boards:
Job Portals
Think of Jobstreet, Monster, jobsDB, and more. These portals offer a quick, inexpensive way to put out job ads that can be seen by plenty of potential candidates while doubling as a job search engine for blue-collar job seekers. While a number of these are general sites, there are also portals that cater to a specific industry for more niche skill sets. Here's a quick tip: familiarise yourself with their features and functions so you can make your postings stand out even more.
Facebook Groups
Through this popular social media site, blue-collar workers can join various groups and be part of communities catered to specific blue collar roles. These include groups for delivery services, food and beverages, and logistics. What's unique about Facebook Groups is that it also allows workers themselves to broadcast their proficiencies and services, ultimately letting you match them with the roles that suit their skill sets.
LinkedIn
The social media platform for professional networking and employment comes with a comprehensive job board, while allowing job seekers to put together a profile of their professional experiences, where businesses can vet through potential candidates by searching specific keywords. Blue-collar workers can not only directly apply for positions on LinkedIn but do so with a click of a button via the Easy Apply feature. This convenience reduces the friction of applying for roles they're keen on and in turn, gives you a larger pool of talent to choose from.
Job Networks
This outreach platform connects you to blue-collar candidates through a list of readily available and pre-vetted blue-collar job seekers, along with online tools that let you oversee and simplify the recruitment process. This is especially useful if you're pressed for time; having a trusted pool of candidates at hand can take away the tedious task of sifting through job boards to help significantly speed up the hiring process.
Job boards remain one of the most popular outreach platforms for businesses to connect with the right talents, as more blue-collar workers turn digital to look for opportunities. It's exciting to imagine how job boards will evolve with technologies like AI and automation in the mix. This has given rise to smart platforms such as Workmate, which integrates automation tools, real-time performance data, and a reliable worker network—and how it can ultimately address the blue-collar talent shortage you face.
Learn more about recruiting and retaining your blue-collar workforce in our paper, "The Ultimate Guide to Recruiting Blue Collar Workers in 2021". Download now.
Or try our free demo now and start managing your blue-collar workforce. Click here.
Subscribe to our Blog
We will send you updates on new, relevant articles that can help your business!