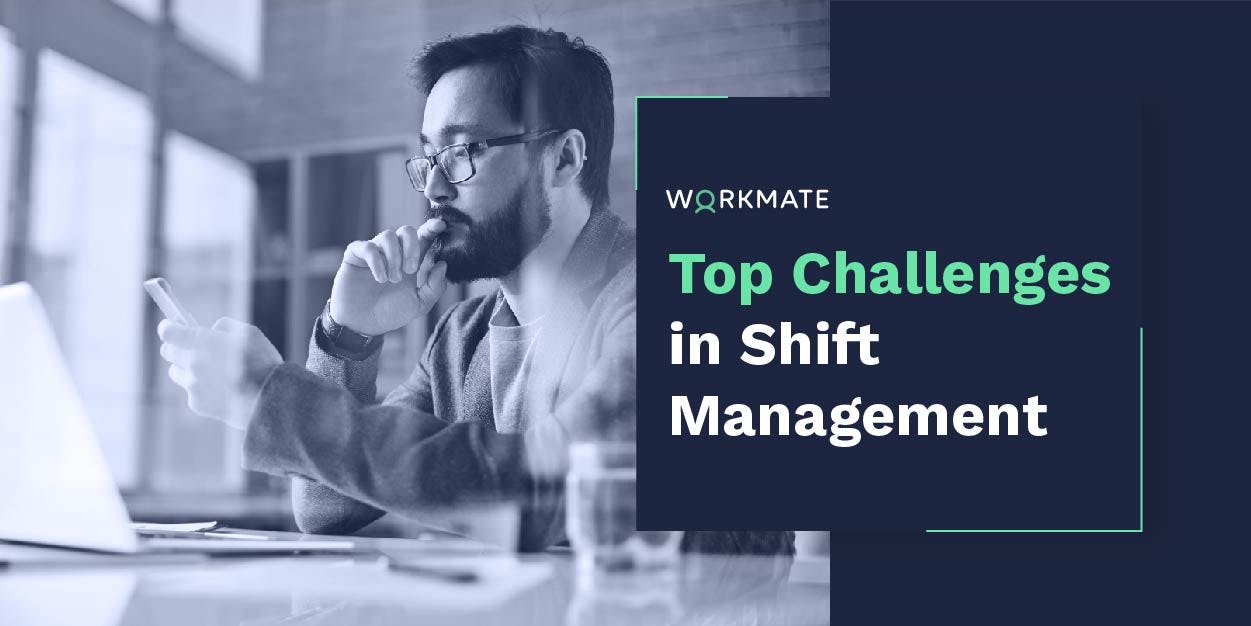 Business: Top Challenges in Blue-Collar Employee Shift Scheduling
Managing shift schedules for your workforce can be challenging and time consuming. One error or worker absence can impact your overall workforce productivity and daily business targets.
Data from Deloitte Global Trends also states that HR / Ops spend up to 3.14 hours managing shift scheduling and managers spend up to 20% of their time on inefficient manual scheduling processes. On the other hand, miscommunication of shift schedules may cause workers to be disgruntled and churn.
A number of other challenges commonly faced by HR / Ops in managing work shifts:
Top challenges in employee scheduling
1. Unexpected worker absences
HR/Ops managers may need to factor in sudden changes to their roster schedule, either due to a change in business demand, or due to workers dropping out of schedules. The change needs to be manually logged and re-communicated back to relevant workers and on-ground supervisors, often resulting in missed information and no-shows. 
2. Disintegrated systems and error-prone data
Manual systems are susceptible to both intentional and unintentional error. Data mismatch in shift schedules can create confusion around when staff are expected to come, resulting in shift no-shows, inaccurate attendance tracking and paying the wrong amount to workers. 
Disintegrated spreadsheets and systems may result in errors in data reporting, causing schedule miscommunication or errors in attendance and payroll reporting. Attendance report errors need to be reconciled, which may take up a lot of time and may impact the accuracy or timeliness of worker payments and job satisfaction levels.
3. Inability to schedule shifts at scale for a larger workforce 
When you are managing hundreds of workers across different locations and positions, scheduling at this big of a scale is a challenge of its own, as there is a lot of data to be recorded and a lot of moving parts causing high potential of data entry errors.  
Create Free Business Account
Start hiring and managing your workforce today. Instantly create a business account to start your 30-day free trial. No obligation and no credit card required.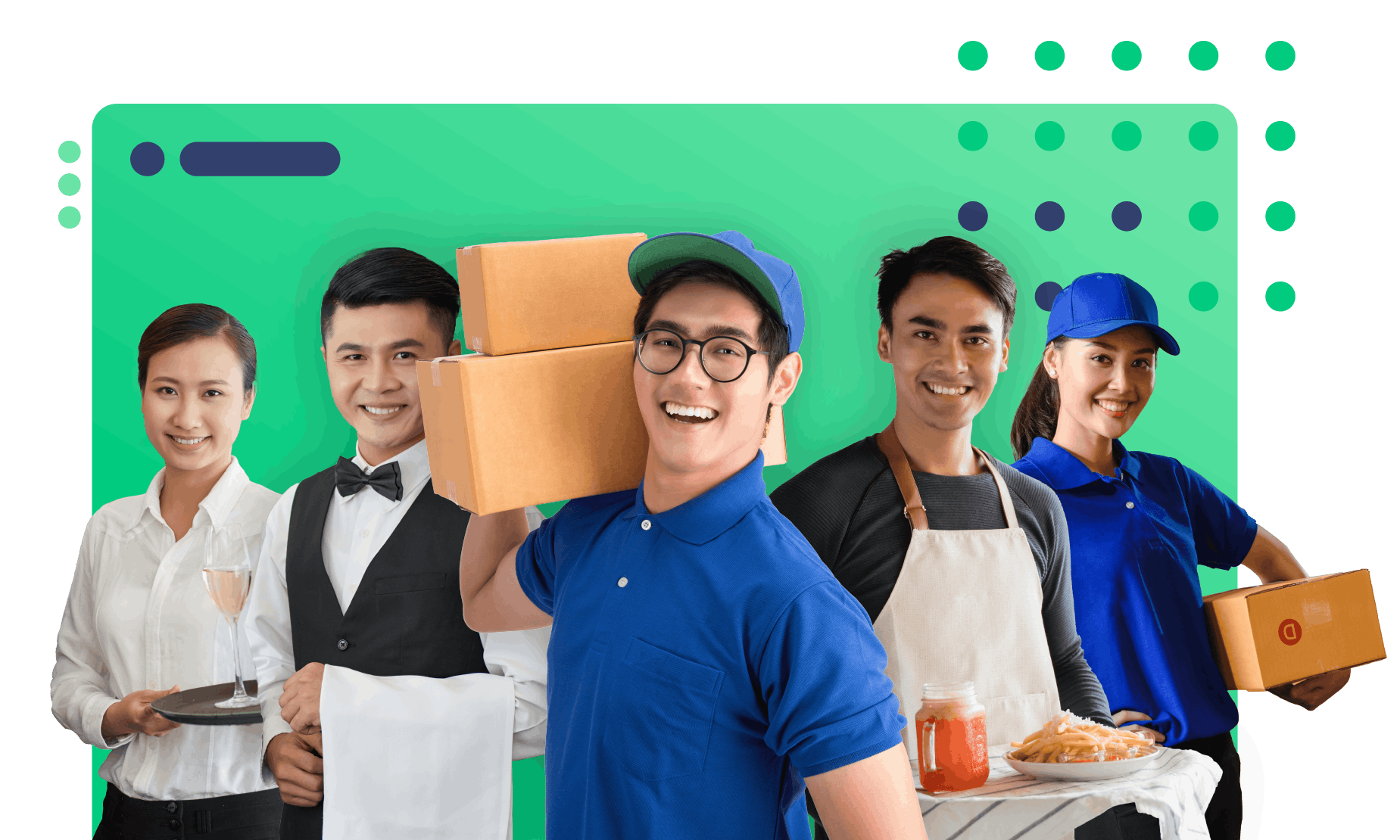 4. Ineffective communication channels 
Managers or supervisors currently use two different platforms to create shifts and notify workers. The commonplace practice we have observed is to schedule shifts on Excel spreadsheets, and then take a picture of the printed copy to send to workers via Whatsapp groups. 
Communication via group chat is hard to control and is often filled with irrelevant messages from other workers, causing employees to miss out on the most important schedule updates. 
5. Loss in workforce productivity due to no-shows and churn
When workers do not show up to work, businesses can miss productivity targets for that day. But the issue extends even further- Deloitte found that employees are 174% more likely to churn if there is a lack of effective real-time shift scheduling processes. 
Keeping your workforce in-sync when it comes to shift scheduling is critical in managing job satisfaction and therefore, workforce retention. On the other hand, if workers frequently show up to the wrong shifts causing them to earn less income, they are nearly twice more likely to churn and find other employment. 
6. Inefficient use of HR/Ops time
Data shows that on average, about 20% of HR managers time is spent on scheduling employees. That means that on average, one whole day of the week is already fully occupied by scheduling alone! 
Between managing schedules changes and back and forth coordination with workers, supervisors and outsourcing agencies, there is a great deal of time wasted on manual scheduling processes. Creating and managing shifts manually can take up a lot of HR time, meaning there is less time spent on contributing higher value to the business, such as developing training, development, employee culture or appraisal programs. 
Learn more about the top challenges businesses face when it comes to scheduling their blue-collar workforce, and read about the best practices of effective shift management in our free e-book!
Download "Ultimate Guide to Effective Shift Scheduling" here.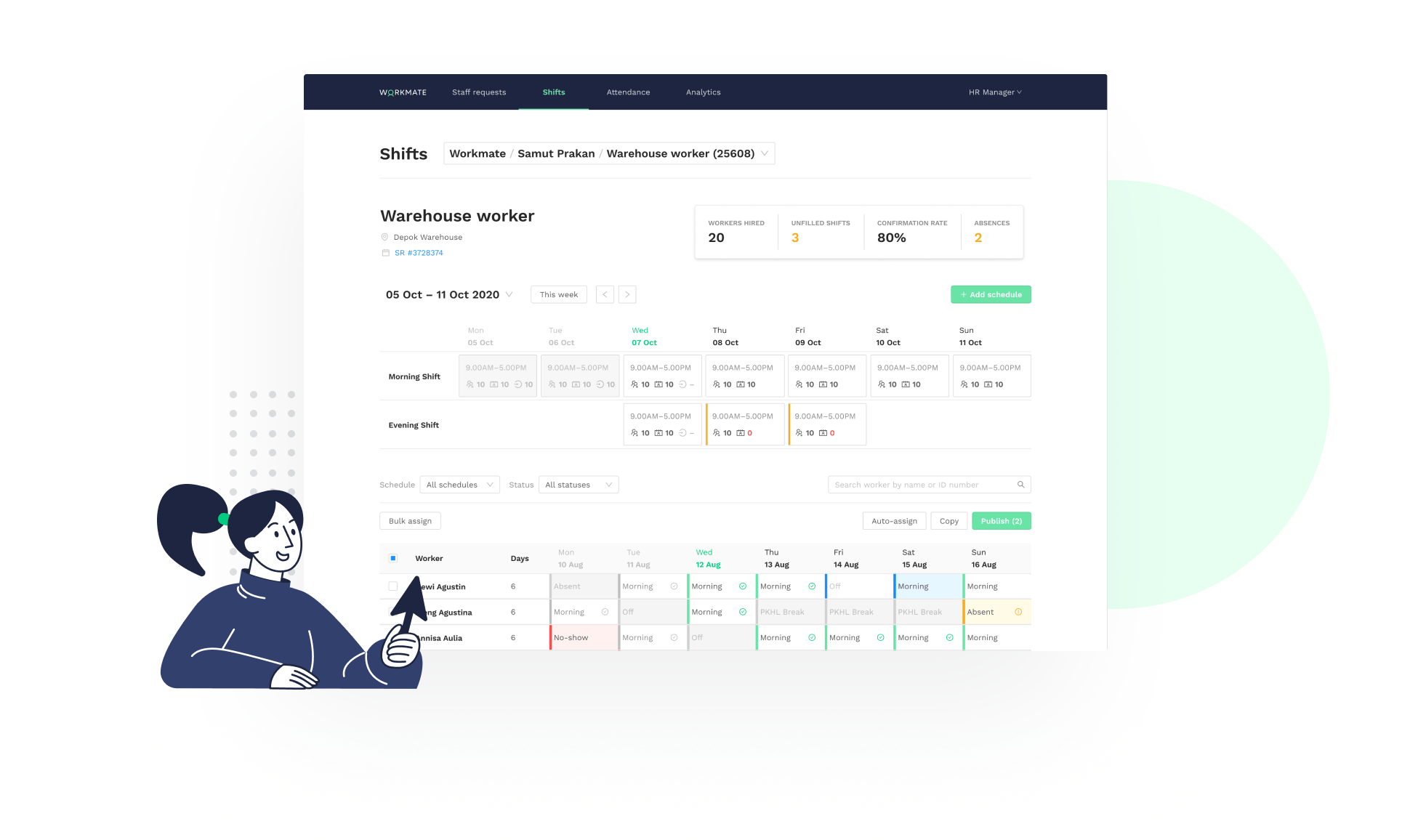 Workmate is a smarter way to schedule shifts at scale.
Workmate is the leading workforce management software to automate your employee scheduling processes. Instead of relying on messy spreadsheets and constantly having to go back-and-forth in Whatsapp groups, you can schedule hundreds of shifts in one, intuitive dashboard, and get reassurance that your workers will show up to their assigned shifts. The shift management feature not only tracks shift schedules and attendance, but also is built to drive perfect attendance for your blue-collar workers.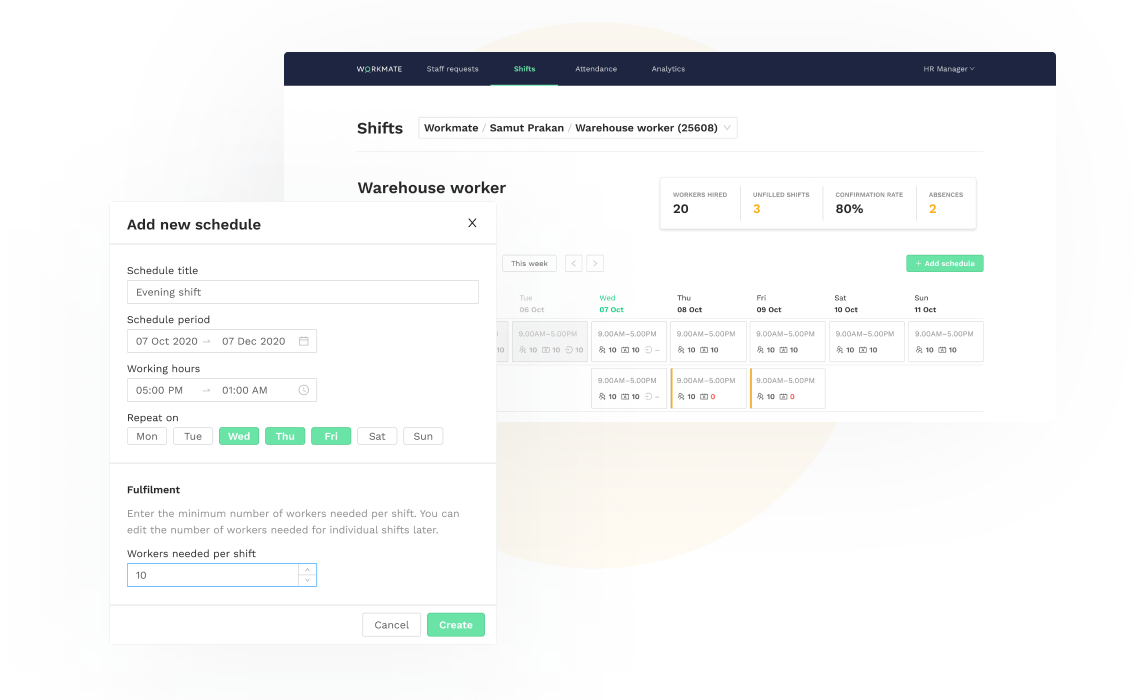 How can you manage shifts on Workmate? 
Create and edit hundreds of shifts in a matter of seconds to save time and effort
Gain a comprehensive overview of your entire roster across locations and positions 
Automatically assign the right shifts to the right workers in the click of a button- ensuring compliance with labour laws. 
Communicate with workers and supervisors directly on the platform, so your entire workforce is always aligned on shift schedules 
Workers are prompted to confirm their assigned shifts, allowing you to foresee future attendance rates even before the shift starts
Get notified when you have unfilled shifts for your immediate action 
Monitor accurate shift attendance records on the same platform in real-time, ready to approve and send to payroll 
Manage worker-reported absences, all in the platform
Subscribe to our Blog
We will send you updates on new, relevant articles that can help your business!